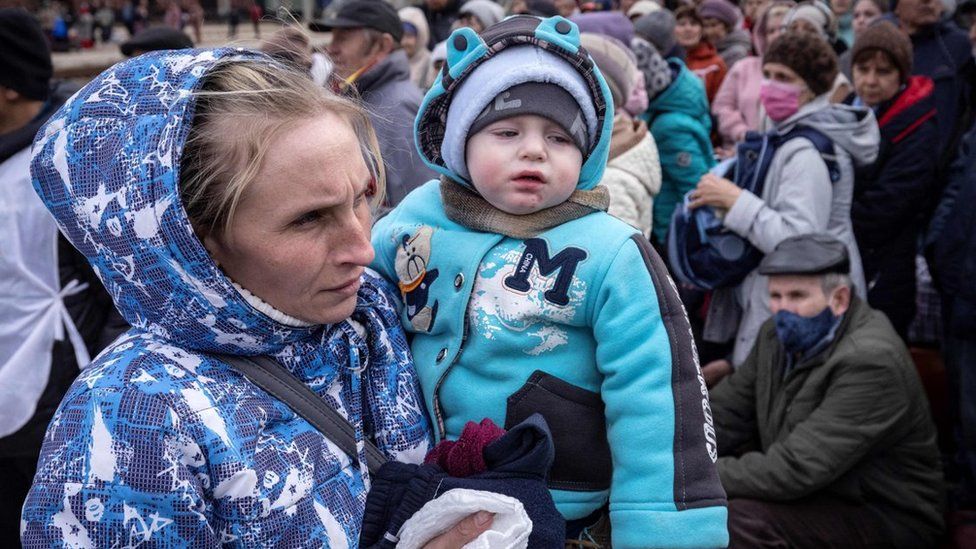 Ukrainians living in the east must flee while they still can, the country's deputy prime minister has warned.
Iryna Vereshchuk said if they did not, Ukraine wouldn't "be able to help" as Russia's invading forces move in.
Her warning comes as a picture begins to emerge of atrocities carried out in Ukrainian towns under the control of Moscow's troops – including allegations of rape, torture and executions.
Russia's Vladimir Putin has again denied his forces are to blame.
In a call with Hungary's re-elected prime minister – and Moscow ally – Viktor Orban on Wednesday, Mr Putin said the alleged atrocities seen in Bucha – the town where bodies of civilians were left out on the streets, and mass graves were discovered at the church – were a "crude and cynical provocation" created by the Ukrainian government.
As Russia withdraws from the north, Ukrainian President Volodymyr Zelensky has warned that the worst atrocities committed may yet to be discovered.
However, thoughts are now turning to the people in the east, where Russian forces are regrouping before a push to take the region known as the Donbas, the area that includes the Donetsk and Luhansk regions which have been controlled by Russia-backed rebels since 2014.
Nato Secretary General Jens Stoltenberg said on Wednesday they were "expecting a major offensive".
"We have seen no indication that President Putin has changed his ambition to control the whole of Ukraine and also to rewrite the international order so we need to be prepared for a long haul," he added.
Ms Vereshchuk said the leaders in Donetsk and Luhansk regions, as well as Kharkiv, slightly further north, were trying to organise an evacuation ahead of any attack.
"It has to be done now because later people will be under fire and face the threat of death," the deputy prime minister said on her Telegram channel.
"There is nothing they will be able to do about it, nor will we be able to help."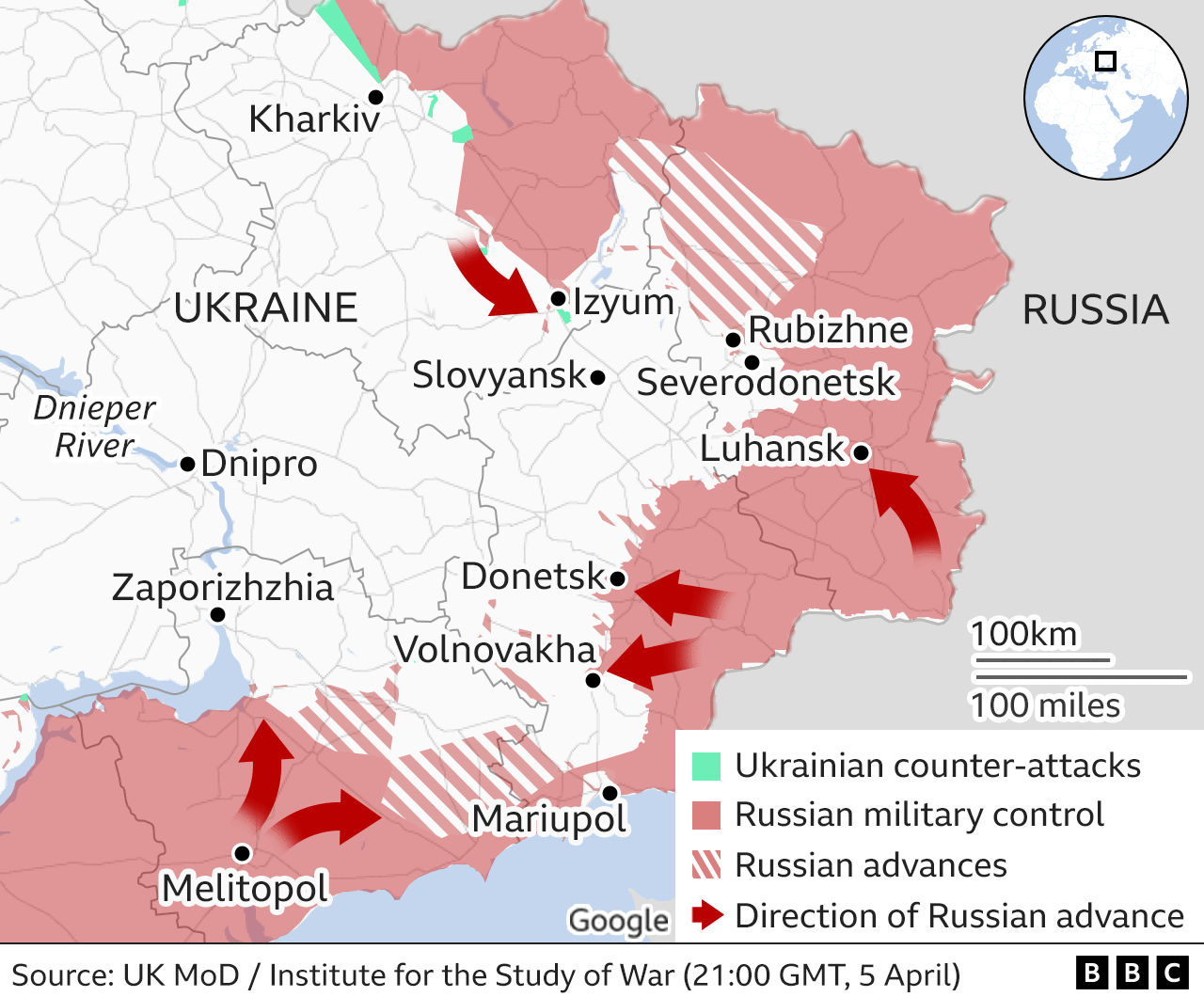 The difficulties of evacuating people from areas under sustained attack has been exemplified in Mariupol – the southern city which would link Crimea, which Russia annexed in 2014, to Russia through the Donbas if it fell under Moscow's control.
The International Committee of the Red Cross has been trying to reach Mariupol since last week so it can lead a convoy of evacuees to safety, but has failed every day.
Residents leaving by themselves describe scenes of horror within the besieged city.
"There are starving people," a woman named Yulia told the BBC's Tom Bateman. "People are being buried in the streets. Shallow graves, half a metre deep at best. [There are] dead bodies all over the streets."
Russia has made clear the Donbas is its next target, and people have been fleeing the region since last week.
On Wednesday, the BBC's defence correspondent Jonathan Beale passed a 50-mile tailback of traffic as people moved west.
Maryna Agafonova, 27, is among those who have already fled, leaving her parents behind in Lysychansk, in Luhansk, as the attacks intensified.
"They attacked hospitals and residential buildings. There is no heating and no electricity."
But Ukrainian forces were still holding out there in numbers, she told the BBC: "They aren't letting the Russians occupy it."
Israel's interior ministry says it has deported a Palestinian-French human rights lawyer after accusing him of security threats. Salah Hamouri, 37, was escorted onto a flight to France by police early on Sunday morning, the ministry said. A lifelong resident of...
Address
P.O. Box: 311001 Independance, Ohio, 44131
Call Us
+1 (216) 269 3272
Email Us
Publish@profilenewsohio.com