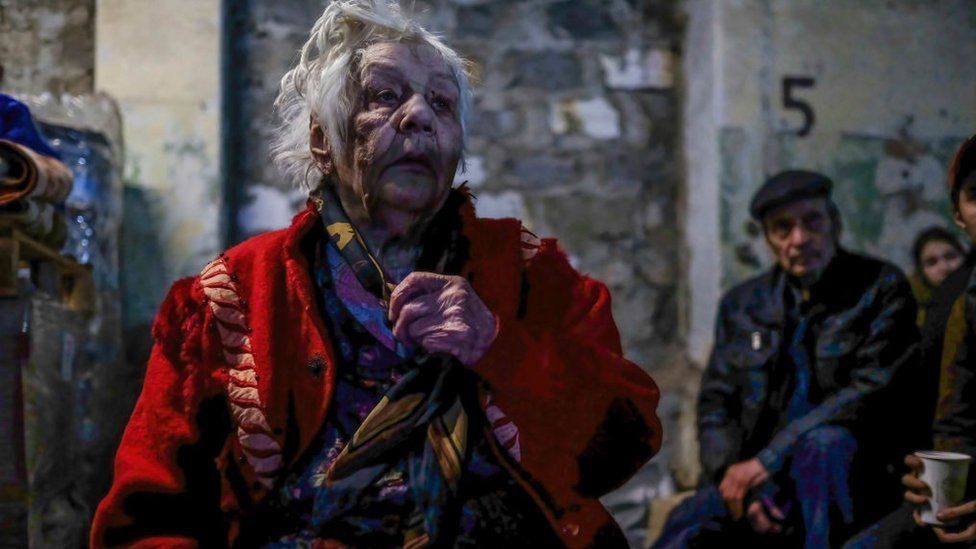 Russian forces are bombarding towns and cities in eastern Ukraine with the declared aim of "liberating" the old industrial heartland known as Donbas.
Having abandoned his campaign to capture the capital Kyiv and second city Kharkiv, Vladimir Putin is now looking for military victory in the largely Russian-speaking east, where he falsely accuses Ukraine of committing genocide.
Achieving his goals in the east is the minimum he needs before he could end the operation and claim it a success.
Russian forces already control large swathes of the south. Ukraine says the battle for Donbas is the biggest on European soil since World War Two but its president has vowed the military "will fight for every centimetre of our land".
What is Ukraine's Donbas?
When Russia's leader talks about Donbas, he is not just referring to Ukraine's coal and steel-producing area. He is highlighting two big eastern regions, Luhansk and Donetsk, which run from outside Mariupol in the south all the way to the northern border with Russia.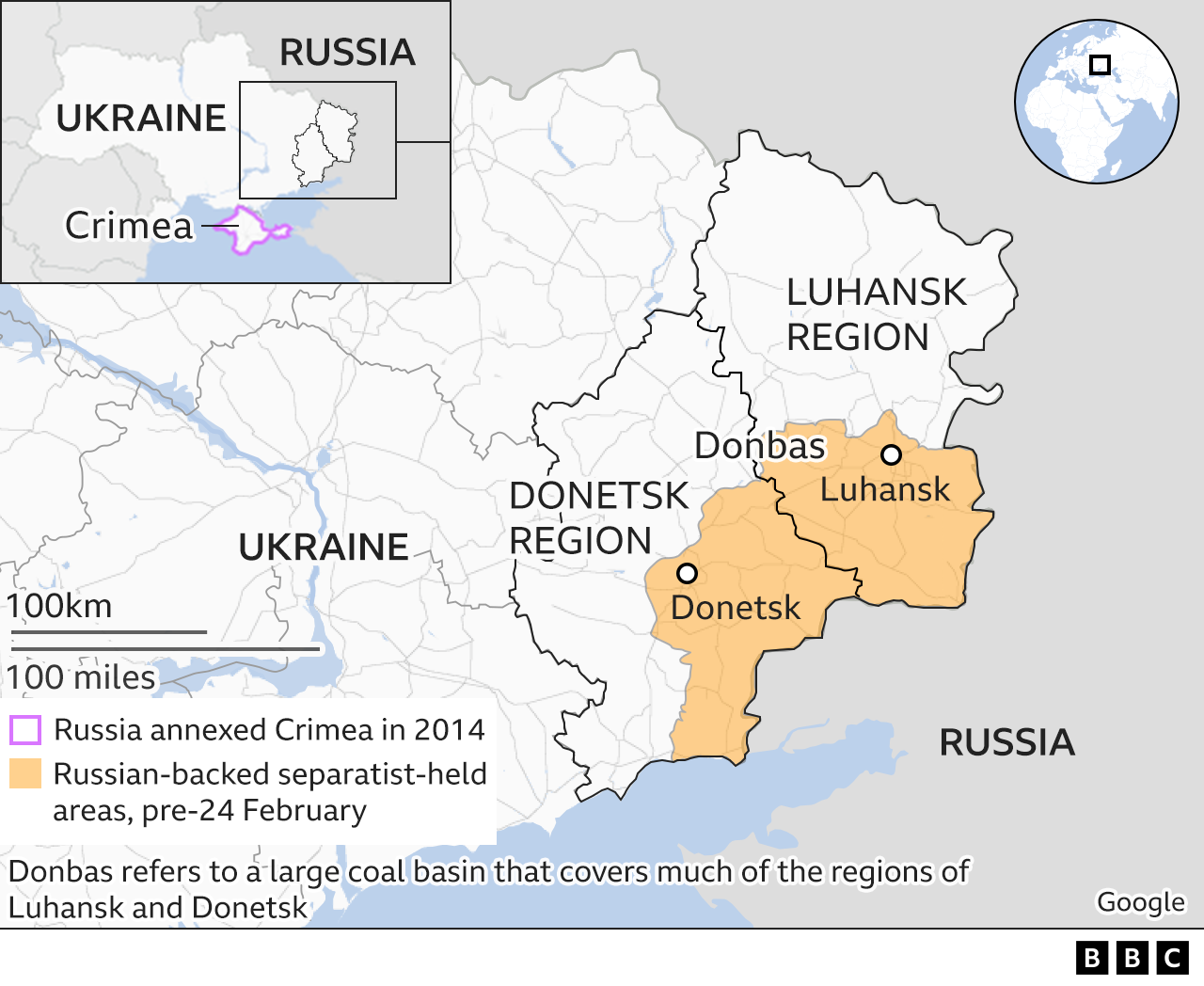 Donbas is predominantly Russian-speaking and after Russia seized Crimea in 2014, its proxy forces captured more than a third of Ukraine's east in a war that never came to an end.
The Russian proxies created so-called people's republics that nobody recognised and Russia now plans to capture the rest of the east.

A month into the invasion, Russia scaled back its ambitions to capture the capital, Kyiv, and instead moved its focus to Donbas. By late March it claimed to have controlled 93% of Luhansk and 54% of Donetsk, although that was certainly an overstatement.
Ukraine's Volodymyr Zelensky declared in April that Russian forces had begun the battle for Donbas and that Ukrainian forces had long prepared for it. Russia is far from subduing the entire area, although if it captures the two big twin cities of Severodonetsk and Lysychansk, then all of Luhansk would be under its control.
Why Putin wants to control Donbas
Just before he launched the war, President Putin recognised all of Luhansk and Donetsk as independent of Ukraine, not just the limited statelets created by Moscow-backed proxies.
He has repeatedly made the unfounded accusation that Ukraine has carried out genocide in the east. The conflict there has claimed more than 14,000 lives since 2014, but three-quarters of those were combatants and the 420km line of contact didn't change significantly after 2015.
As Russia's failure to capture Kyiv became clear, it switched attention to "achieving the main goal – the liberation of Donbas".
Moscow's likely next step would be to annexe Donbas and other adjacent areas, exactly as President Putin did with Crimea after a discredited referendum in 2014.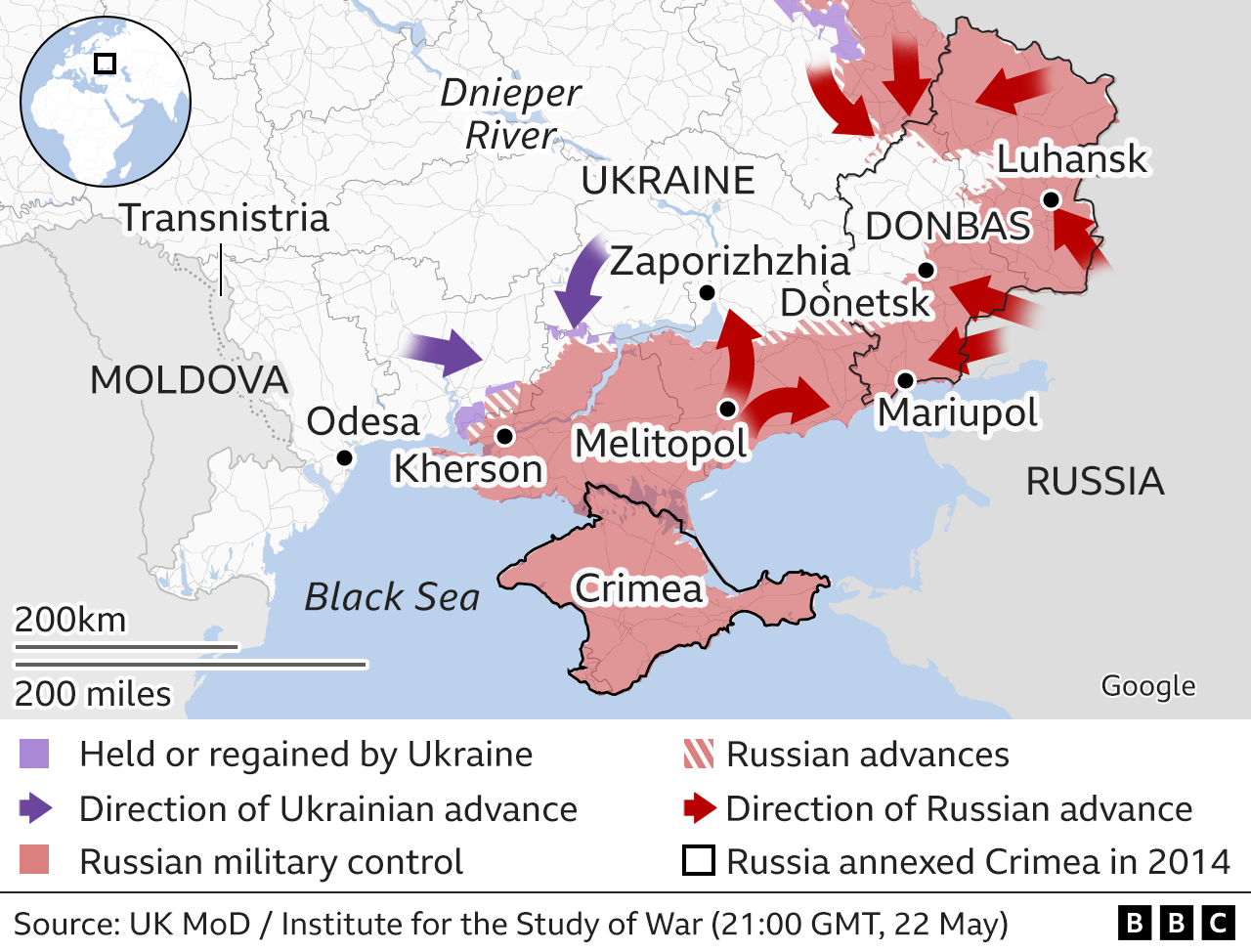 US officials believe annexation is on the cards, and Russia's puppet leader in Donetsk, Denis Pushilin, has said referendums would make sense when Russian forces complete the capture of both regions. The outside world would regard any vote as a sham, but he sees the result as "obvious".
What is Putin's strategy?
Russia's military is pushing forward in Luhansk and Donetsk and digging in in areas of the south, having taken control of the region of Kherson, to the north and west of Crimea, as well as part of Zaporizhzhia. Russia has already secured a land corridor from Crimea to the Russian border with the capture of Mariupol, and it has control of the water supply to Crimea as well as Europe's biggest power plant.
So would victory in Donbas be sufficient for Vladimir Putin?
It is impossible to know what he is thinking and what his relationship is with his military command, says Sam Cranny-Evans of the Royal United Services Institute. But if Russia is successful in Luhansk and Donetsk, then he believes Russia will assess the state of the Ukrainian forces: "If the Russians feel that they are able to gain more of their stated goals, I suspect they will go for them."
Leading Russian figures including Security Council Secretary Nikolai Patrushev have made clear they are not chasing deadlines but are prepared for a protracted war.
If they are successful in Donbas, they may have designs on extending gains in the south. Russian troops have fired missiles at the big city of Zaporizhzhia and President Putin has signed a decree making it easier for citizens in Russian-occupied areas of the south to get Russian passports.
One Russian general has suggested the aim is to conquer Ukraine's Black Sea coast to the west beyond Odesa, but for now that seems little more than an aspiration.
How Russian forces are advancing
For weeks Russian forces have bombarded Severodonetsk and Lysychansk and Ukrainian forces have retreated from Lyman. They have also broken through at Popasna and are threatening key Ukrainian arterial routes and supply lines, particularly the roads from Lysychansk to Bakhmut and the major M03 motorway from Slovyansk to Bakhmut.
The battle for Luhansk has entered a decisive phase, says regional military administration head Serhiy Haidai.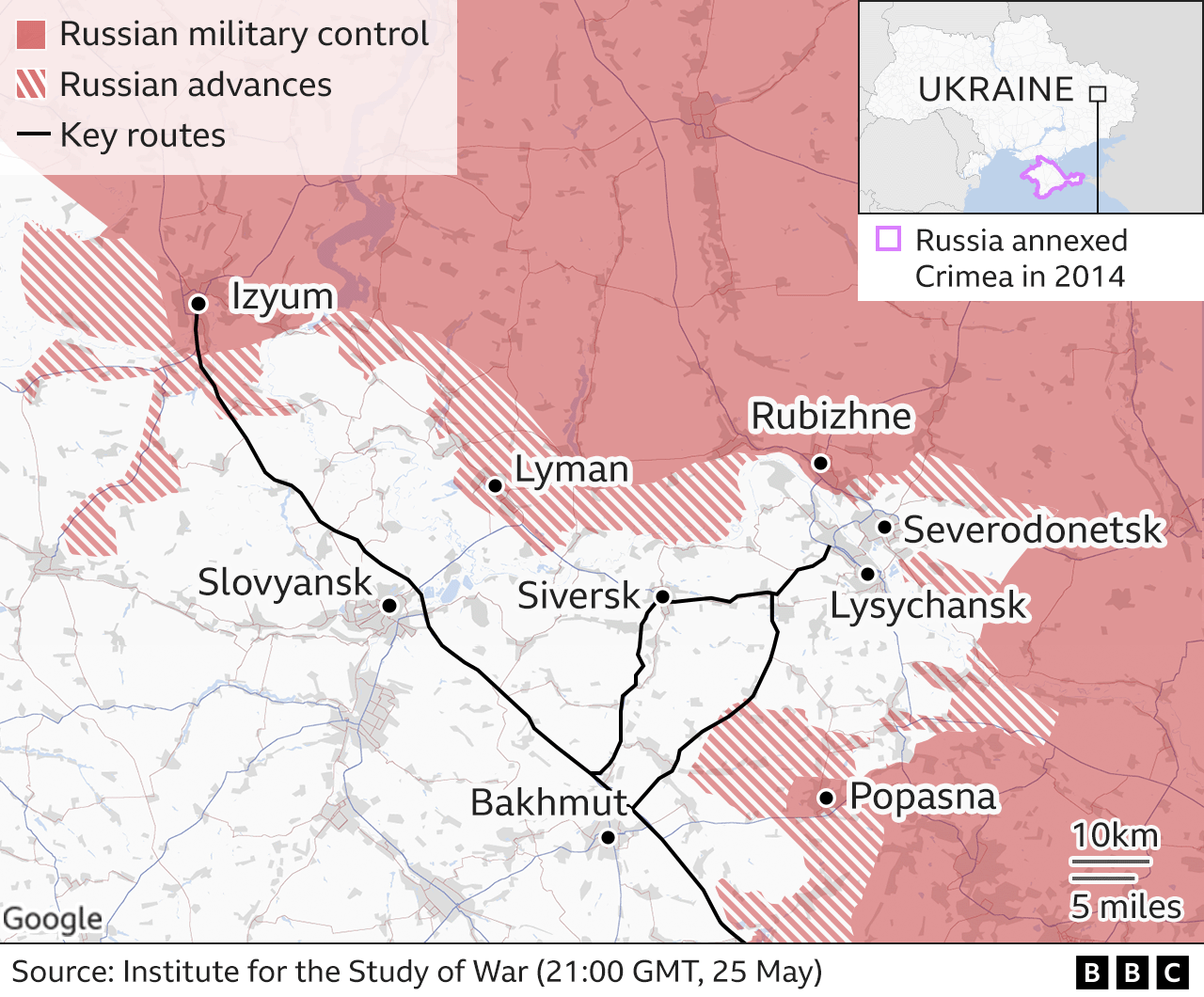 Many of these towns have already experienced years of war since Russia's proxies first seized large parts of Donbas. Severodonetsk is normally a city of 100,000 people – 15,000 were still there, mainly in bomb shelters, as Russian troops advanced in late May.
Maryna Agafonova, 27, fled her family's home in Lysychansk weeks before: "They attacked hospitals and residential buildings," she said.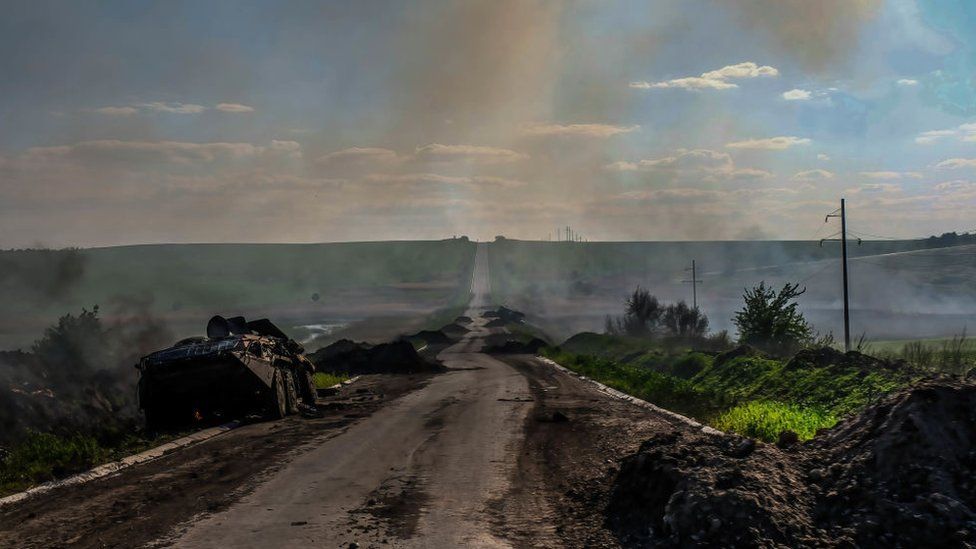 Another big target down the M03 road is Slovyansk, a city of 125,000 people that was seized by Russian-backed forces in 2014 before being recaptured. Capturing Kramatorsk, just to the south, is also a big objective.
But Russian progress has been slow and Ukrainian defence officials believe they are running low on high-precision weapons.
"This is a big territory to control, and I think we shouldn't underestimate the geographical complexities of this," says Tracey German, professor in conflict and security at King's College London.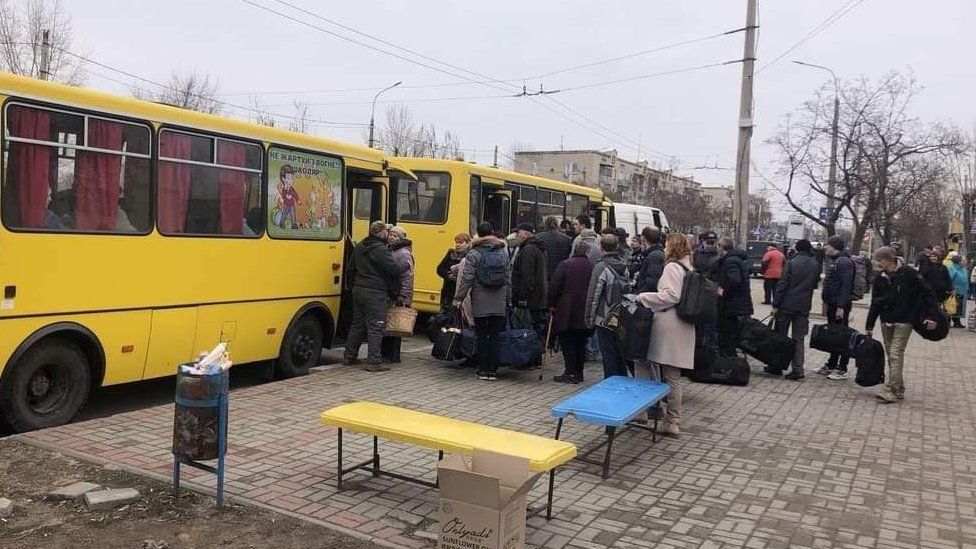 The Russians have already succeeded in blocking most rail traffic to the east. That was the fastest route for fleeing civilians but also the most effective transport for Ukrainian troops and heavy weaponry. Train lines in and out of Donbas have been cut and the only services remaining are going to Pokrovsk.
Serhiy Haidai believes Russia's leader is now determined to capture the Luhansk region, no matter what the cost – in money, soldiers' lives or military equipment.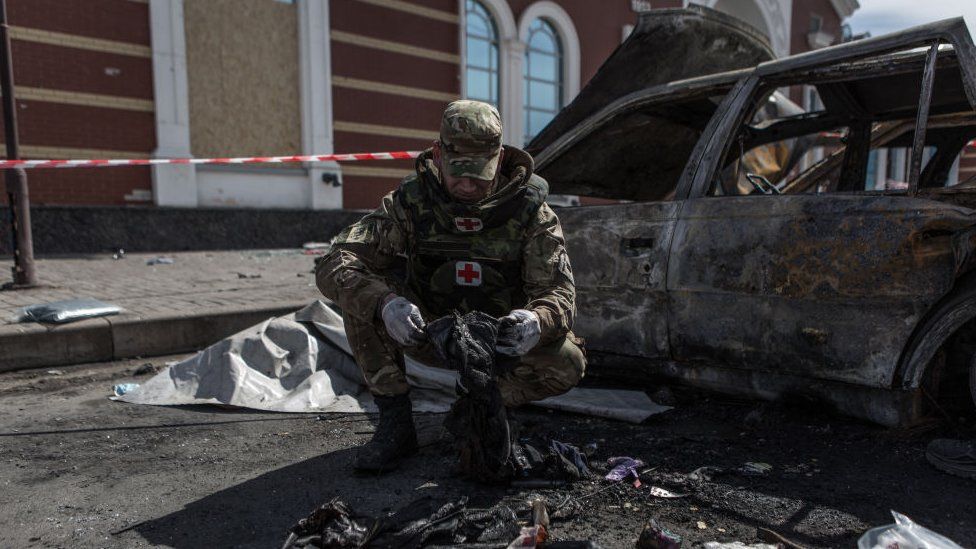 Can Ukraine's forces hold out?
At the start of the war, the 10 brigades that made up Ukraine's Joint Forces Operation (JFO) in the east were regarded as the best-equipped and best-trained soldiers that Ukraine has.
President Zelensky revealed on 22 May that between 50 to 100 soldiers may be dying every day in their defence of eastern Ukraine. That would indicate an even larger number of wounded and Sam Cranny-Evans believes it is likely that some brigades are no longer combat effective.
"It is hard to assess whether or not they are in a good place right now. If the above attrition rates are accurate, it could be very problematic."
US officials have estimated that some 93 Russian battalion tactical groups were operating in the east, each numbering 700 to 900 men. But they too have suffered from high losses and low morale. Their units are made up of men enlisted from the local separatist areas, many under duress, as well as the broader Russian army.
Russia studies analyst Michael Kofman says the military balance in the war overall weighs in Ukraine's favour, because of manpower availability and access to Western military support, but in Donbas it is too early to say how the war will go: "Ukraine may lose territory in the short term, but Russia faces major problems with sustaining its military effort in the long term, or holding on to gains".
That is why Ukraine is calling on its Western allies to speed up deliveries of heavy weapons including long-range artillery.
Israel's interior ministry says it has deported a Palestinian-French human rights lawyer after accusing him of security threats. Salah Hamouri, 37, was escorted onto a flight to France by police early on Sunday morning, the ministry said. A lifelong resident of...
Address
P.O. Box: 311001 Independance, Ohio, 44131
Call Us
+1 (216) 269 3272
Email Us
Publish@profilenewsohio.com