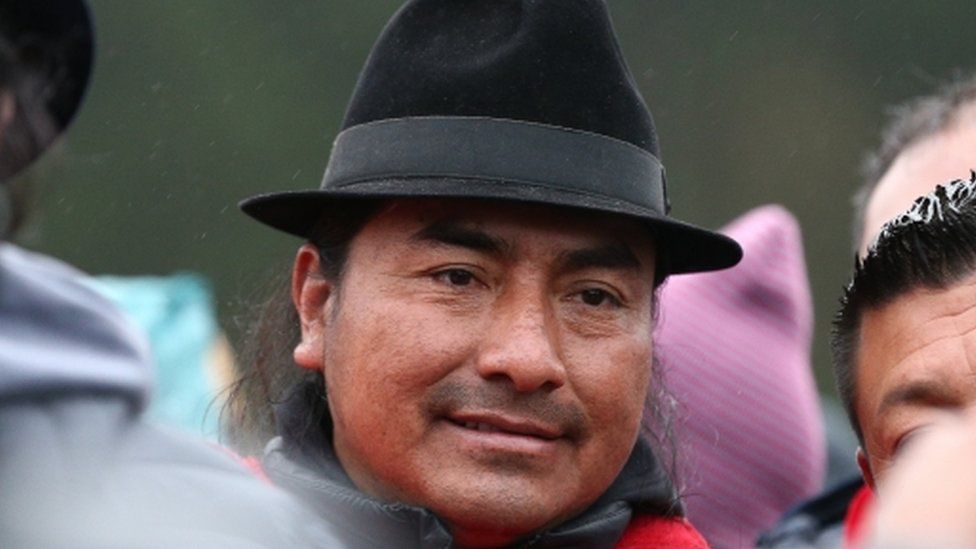 Police in Ecuador have arrested the leader of the country's biggest indigenous group after a day of protests calling for lower fuel prices.
In a tweet, police said Leonidas Iza of the Confederation of Indigenous Nationalities of Ecuador (Conaie) had been detained near the capital, Quito.
They did not specify what charges he faced.
Highways across the country were blocked with piles of burning tyres, trees and mounds of earth to cut off access to Quito.
The protesters' list of demands include reducing the cost of fuel and price caps on agricultural goods.
Ecuador is currently grappling with rising levels of inflation, unemployment and poverty.
Since 2020, the cost of diesel has almost doubled while the price of petrol has also increased sharply.
A $6.5bn (£5.3bn) financing deal negotiated between Ecuador's government and the International Monetary Fund during the height of the coronavirus pandemic is due to come to an end later this year.
The police said Mr Iza had been arrested in Pastocalle, about 20km (12 miles) south of Quito, on suspicion of unspecified "offences".
Pastocalle has been at the heart of the demonstrations called by Conaie.
The police added that Mr Iza was in custody awaiting a court hearing.
Mr Iza said on Monday the protests would continue until President Guillermo Lasso responded to the group's requests.
Conaie confirmed Mr Iza's arrest and called for a "radicalisation" of the demonstrations in response.
A US court of appeals has ruled that cases against Lebanese commercial banks can be tried outside Lebanon, paving the way for more cases by depositors seeking to unlock their frozen funds. The court decision, issued on Thursday in a case brought by Lebanese depositors...
Address
P.O. Box: 311001 Independance, Ohio, 44131
Call Us
+1 (216) 269 3272
Email Us
Publish@profilenewsohio.com