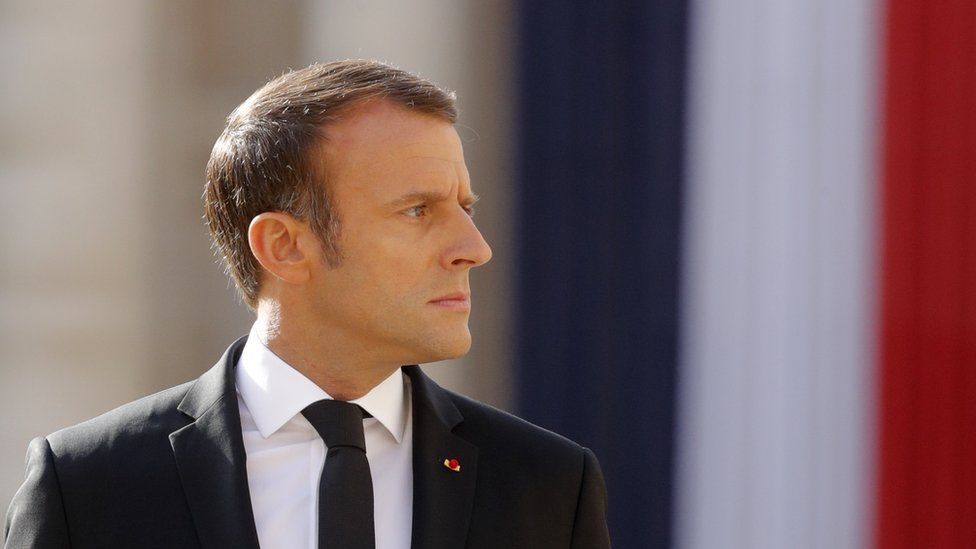 The day after he won the first round of this election, Emmanuel Macron found himself in a shouting match with a dental assistant.
To be fair, only one of them was actually shouting and it wasn't Macron, but the exchange between them, in the old mining town of Denain, reveals the trait that propelled the French president to power five years ago. It's the very same trait that has set many voters against him now.
Elodie, the dental assistant, was furious. She shouted about the president's "insulting" language in describing those who remained unvaccinated against Covid.
Macron told her she had taken his words the wrong way. Elodie shouted about taxes and rising prices.
He said he'd lowered taxes and she wasn't being fair.
"You've lowered taxes?" she responded, incredulous. "Have you been to the petrol station yourself? How much do you earn each month?"
"I don't control the global market," Macron replied. "We just won't agree," Elodie concluded.
"But it's important I explain," Macron said.
The French president has always believed he has the answer to the country's problems. And that, if only he can explain his thinking to others, they will see that too.
That self-belief has led to many long speeches, a tough approach to protesters – and a perception among some people that Macron just won't listen.
Even before he was elected, he radiated a kind of single-minded evangelism about his project for France. How else could a 39-year-old running his first election campaign become president in the first place?
Alain Minc, an influential political adviser and early mentor to Macron, tells the story of meeting the future leader in the early 2000s.
"I'll tell you the first words I exchanged with him. He came to visit me, when he was a young inspector of finance, and I [asked him]: 'What will you be in 20 years from now?'. Macron answered, 'I'll be president'. I was stunned."
Fifteen years later, while serving as economy minister, Emmanuel Macron launched his political movement, En Marche.
Without the backing of any established party or structure, he was initially written off by many people as too young and too inexperienced; a "champagne bubble" liable to pop before polling day.
One fellow minister in France's Socialist government mocked Macron's new movement – whose members were nicknamed "the Marchers" – by posting a video of the launch on social media, set to a song titled I Walk Alone.
That's not how it turned out.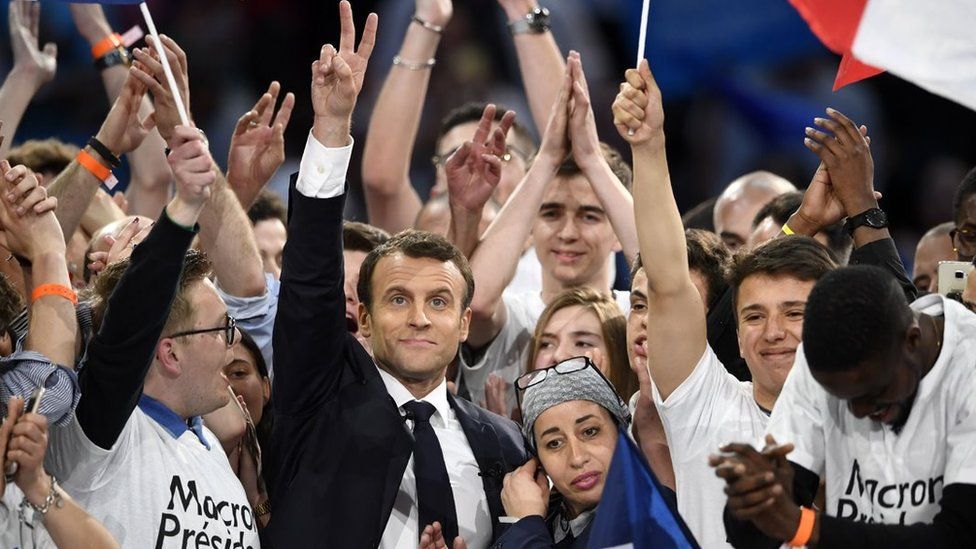 Macron had a fair amount of luck in his first election campaign.
His rivals from the main Socialist and Republican parties left a good deal of political ground in the centre of politics – the space he hoped to occupy. And the Republican frontrunner, François Fillon, became embroiled in a financial scandal during the campaign.
But Macron's vision for France was clear, and it was new, and it was delivered with energy and passion.
At his campaign rallies, the future leader seemed to give himself completely to the moment. Hoarse with emotion, almost Messianic, he would shout into the auditorium, head thrown back, arms wide, telling his fans he loved them, needed them. It was rock star politics.
The impression was that a new wind was blowing through French politics, bringing a promise of inclusion and democracy. All driven by one man.
Before formulating a political programme, En Marche began by carrying out 25,000 interviews with voters across the country, going door-to-door and asking people two questions: what works in France, and what doesn't work?
But political biographer Marc Endeweld says that, despite the image of a fresh, more horizontal democracy, Macron was always the one with the power.
"You have to realise that, in the end, En Marche is something very vertical," he told me at the time. "There isn't really a campaign manager. Emmanuel Macron has compartmentalised his relationships, and he has an extremely personal conception of power."
Israel's interior ministry says it has deported a Palestinian-French human rights lawyer after accusing him of security threats. Salah Hamouri, 37, was escorted onto a flight to France by police early on Sunday morning, the ministry said. A lifelong resident of...
Address
P.O. Box: 311001 Independance, Ohio, 44131
Call Us
+1 (216) 269 3272
Email Us
Publish@profilenewsohio.com