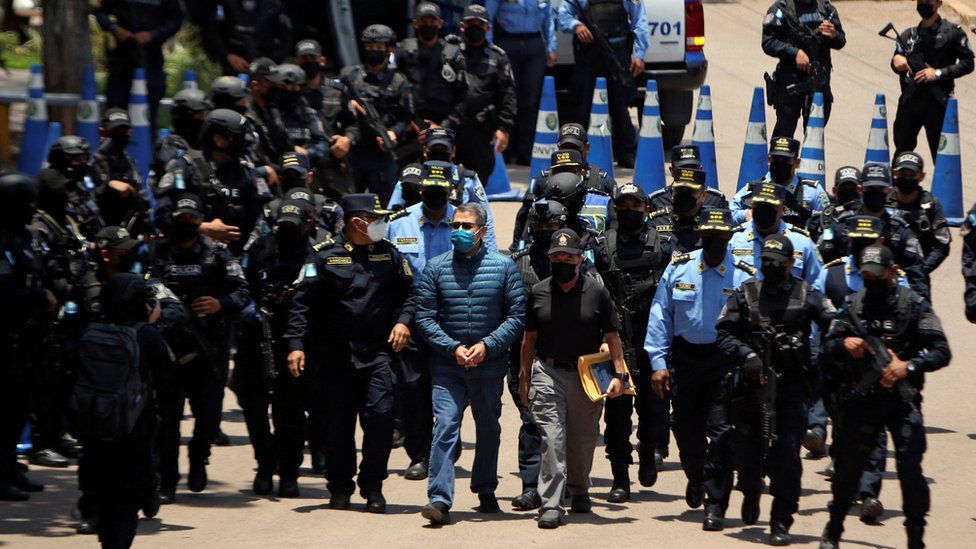 A former president of Honduras, Juan Orlando Hernández, has been extradited to the United States to face charges of drug trafficking and money laundering.
Mr Hernández, who governed the Central American nation until January, was put on board a US Drug Enforcement Administration plane for New York.
He was arrested at his home just weeks after his second term in office ended.
The ex-leader has denied wrongdoing, arguing that disgruntled drug traffickers are trying to frame him.
Mr Hernández is facing charges of:
conspiracy to import a controlled substance into the US
using or carrying firearms including machine guns
conspiracy to use or carry firearms
In a video posted on his wife's Twitter account, he denied the allegations, saying: "I am innocent. I have been subjected to an unfair trial."
In a statement, the US Department of Justice said Mr Hernández would make his first appearance before a New York court on Friday.
US Attorney Damian Williams said the former president had "partnered with some of the world's most prolific narcotics traffickers to build a corrupt and brutally violent empire based on the illegal trafficking of tons of cocaine".
The head of the Drugs Enforcement Administration (DEA), Anne Milgram, called Mr Hernández "a central figure in one of the largest and most violent cocaine trafficking conspiracies in the world".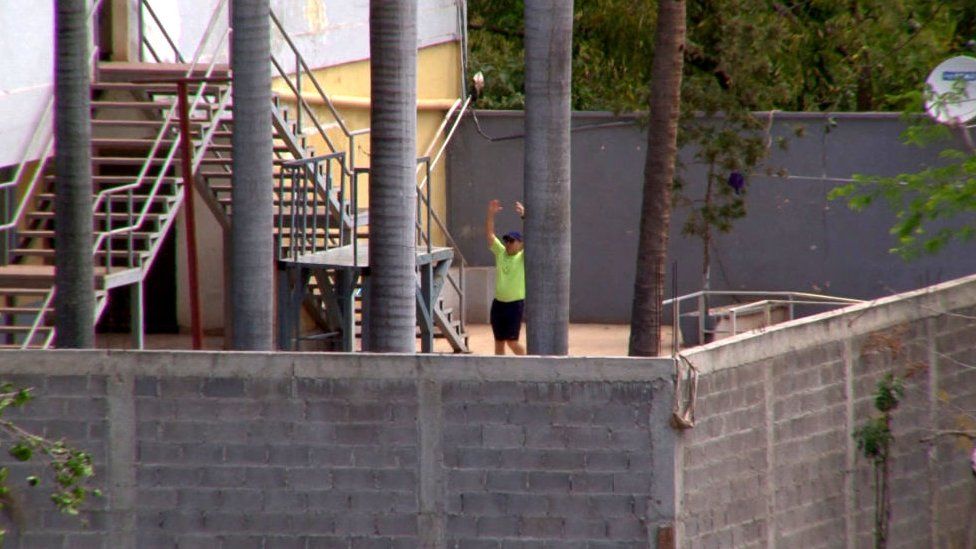 During Tony Hernández's trial in New York, prosecutors alleged that the infamous Mexican drug lord Joaquín "El Chapo" Guzmán had personally handed the younger Hernández $1m (£765,000).
Juan Orlando Hernández is accused of having accepted millions of dollars in bribes during his eight years as president in exchange for protecting drug traffickers from investigation, arrest and extradition.
In its extradition request, the US outlined some of the allegations in more detail, accusing the former president of "participating in a violent drug trafficking conspiracy to receive shipments of multiple tonnes of cocaine sent to Honduras from Colombia and Venezuela and other locations by air or sea routes".
The request alleges that the drugs – amounting to a total of 500 tonnes since 2004 – were then transported to the Guatemala border and from there to the US.
Mr Hernández has denied the allegations, arguing that he fought drug traffickers with all the means at his disposal.
The former president – who was elected to the office in 2014 – says that the evidence against him was fabricated by drug traffickers out for revenge after his government extradited them to the US.
He has been in police custody since his arrest on 15 February.
Israel's interior ministry says it has deported a Palestinian-French human rights lawyer after accusing him of security threats. Salah Hamouri, 37, was escorted onto a flight to France by police early on Sunday morning, the ministry said. A lifelong resident of...
Address
P.O. Box: 311001 Independance, Ohio, 44131
Call Us
+1 (216) 269 3272
Email Us
Publish@profilenewsohio.com