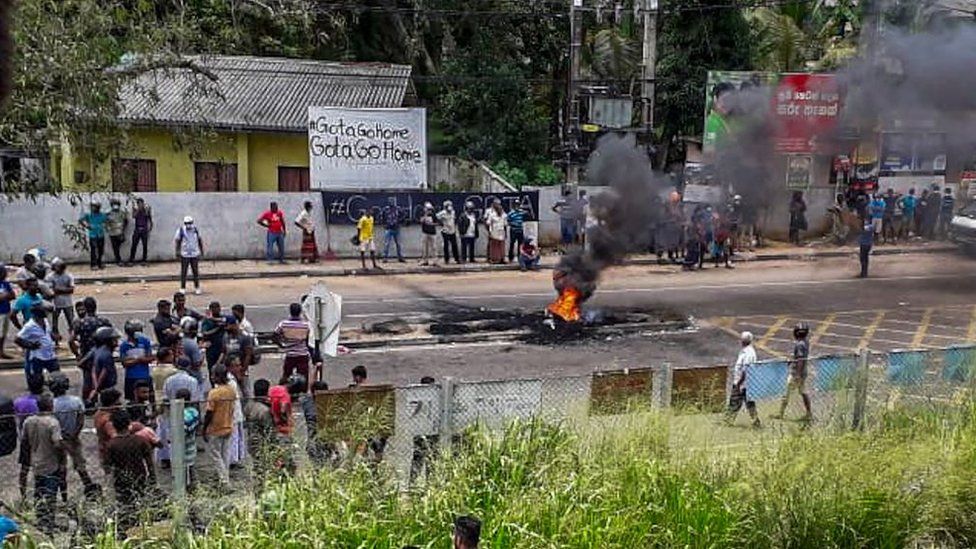 Outrage has erupted over the death of a Sri Lankan man who was killed when police fired live bullets at protesters, also injuring 14 others.
Footage of police opening fire in the central town of Rambukkana has been widely shared on social media.
Police said they used "minimum force" to disperse protesters, but many have asked why live bullets were used.
The incident has been condemned by the UN representative to Sri Lanka as well as the US and EU envoys.
It comes as the nation is grappling with its worst economic crisis since independence from Britain in 1948.
Tens of thousands of demonstrators have taken to the streets since Sri Lanka ran out of money for vital imports which has seen the prices of essential commodities skyrocket and caused acute shortages of fuel, medicines and electricity.
Protesters are demanding the resignation of President Gotabaya Rajapaksa as they blame his policies for the crisis, but he is refusing to quit.
Mr Rajapaksa admitted that he made several "mistakes" that contributed to the situation, but his appointment of a new cabinet on Monday angered many Sri Lankans.
Police say they 'had to fire'
There were protests in a number of areas on Tuesday after Sri Lanka's main fuel retailer put prices up by nearly 65%. The prices of essential food items like wheat flour also increased on Tuesday.
The crowds in Rambukkana had been protesting for about 15 hours demanding fuel, BBC Sinhala's Ranga Sirilal reports.
Thousands of angry motorists and bus drivers were also burning tyres and blocking the nearby highway linking the capital Colombo with the city of Kandy.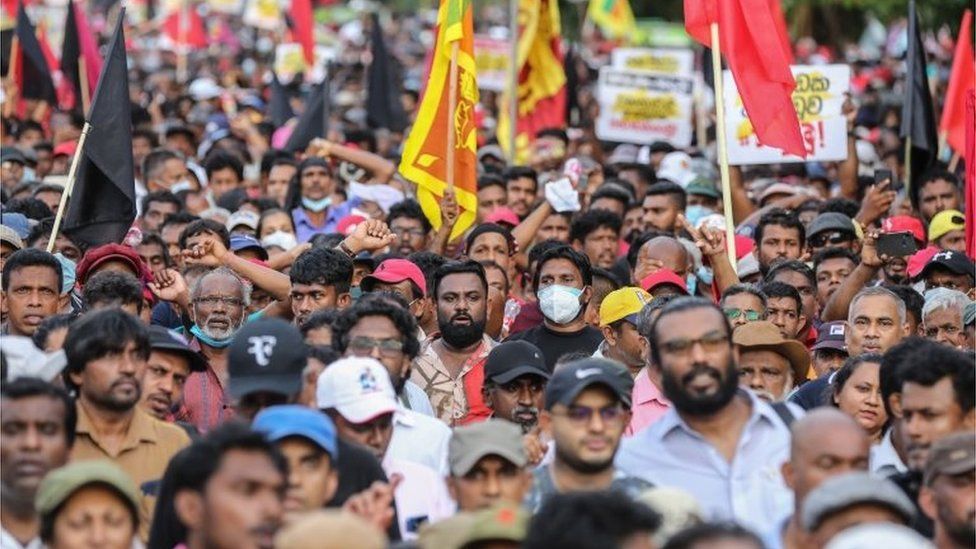 At least three of the injured protesters are said to be in a critical condition. The man who died was likely to have been shot, Mihiri Priyangani, director of the Kegalle Teaching Hospital, told Reuters news agency.
"We are suspecting gunshot injuries but need a post-mortem to confirm the exact cause of death."
"Police had to fire to control the protesters. They set fire to some tyres too, so police had to fire to disperse them," police spokesman Nihal Talduwa told the BBC.
The authorities say the crowd threw stones and other objects at police, injuring a number of them but many are asking why live bullets were deemed to be an appropriate response.

The Inspector General of Police CD Wickramaratne later issued a statement saying that police had acted to stop a group of protesters from setting fire to a truck containing 30,000 litres of fuel.
This has been disputed by protesters, while many on social media have pointed out that video of the incident shows no such threat to the truck.
Footage from other parts of the country showing police beating and firing tear gas at protesters have also caused massive outrage.
The US Ambassador to Sri Lanka, Julie Chung, has called for a "full, transparent investigation" into the violence, adding that "the people's right to peaceful protest must be upheld".
The demonstrations mark a massive turnaround in popularity for Mr Rajapaksa who swept into power in 2019, promising stability and a "strong hand" to rule the country.
Critics say corruption and nepotism – his brothers and nephews occupied several key ministerial portfolios – are the main reasons for the crisis.
His new cabinet contained several party stalwarts, but was shorn of Rajapaksa family members, apart from the president's elder brother Mahinda who kept his job as prime minister.
The latest incident came as Sri Lankan officials headed to the IMF requesting urgent financial help.
Israel's interior ministry says it has deported a Palestinian-French human rights lawyer after accusing him of security threats. Salah Hamouri, 37, was escorted onto a flight to France by police early on Sunday morning, the ministry said. A lifelong resident of...
Address
P.O. Box: 311001 Independance, Ohio, 44131
Call Us
+1 (216) 269 3272
Email Us
Publish@profilenewsohio.com