Thirty years ago when communism collapsed in the Soviet Union, Western firms stepped up their presence in Russia.
The arrival of big Western companies symbolised the start of a new era with Russians becoming eager consumers of brands ranging from fast-food chain McDonalds to Levi jeans and luxury goods.
Now, in the wake of President Putin's invasion of Ukraine, a growing number of firms have suspended activities in Russia.
So which firms, in which sectors, are exiting and why have others held back?
The world's biggest cosmetics firm L'Oreal and rival Estee Lauder are both closing shops and ceasing online sales. Estee Lauder, whose brands include Michael Kors, DKNY, Clinique and Bobbi Brown, has had a presence in the country for about 30 years and Russia was where it had some of its strongest sales.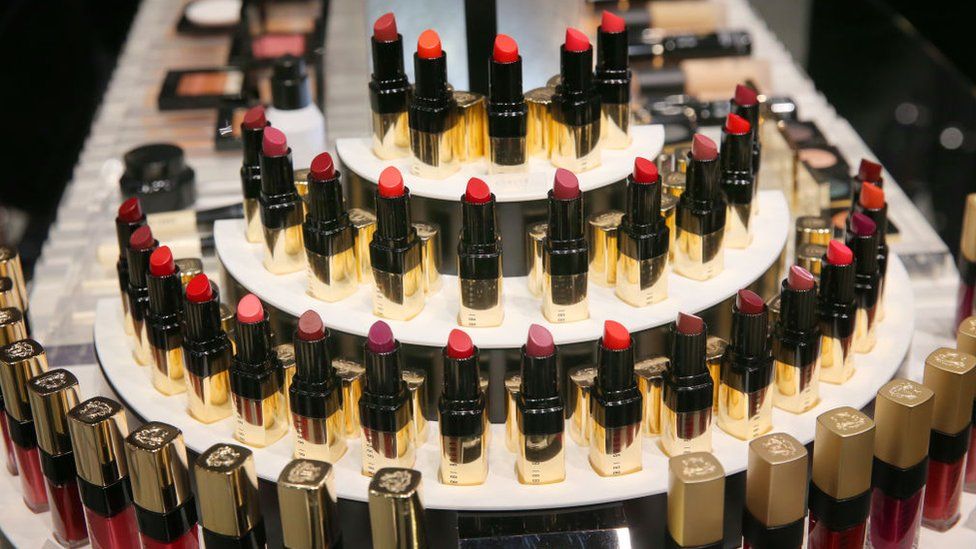 In fact, Russia was the fifth largest European retail market globally last year, valued at £337.2bn. So some brands may not want to burn their bridges, if there's a chance of returning at a later date.
That is why many firms, including other luxury retailers like Burberry and Chanel, simply say they are "suspending" sales and temporarily shutting stores rather than withdrawing altogether, says Chris Weafer, chief executive of consulting firm Macro-advisory Limited.
With sanctions limiting forms of payment and huge uncertainty over future prices and consumer appetite, the business climate is "extremely challenging" he adds, making the decision to hit pause easier.
More brands are likely to follow suit, according to Maureen Hinton of retail consultancy GlobalData. Boohoo, Swedish furniture giant Ikea and Japanese clothing retailer Uniqlo which initially kept its 49 shops Russian stores open, saying clothes were a "necessity of life", are some of the other names to have now cut ties.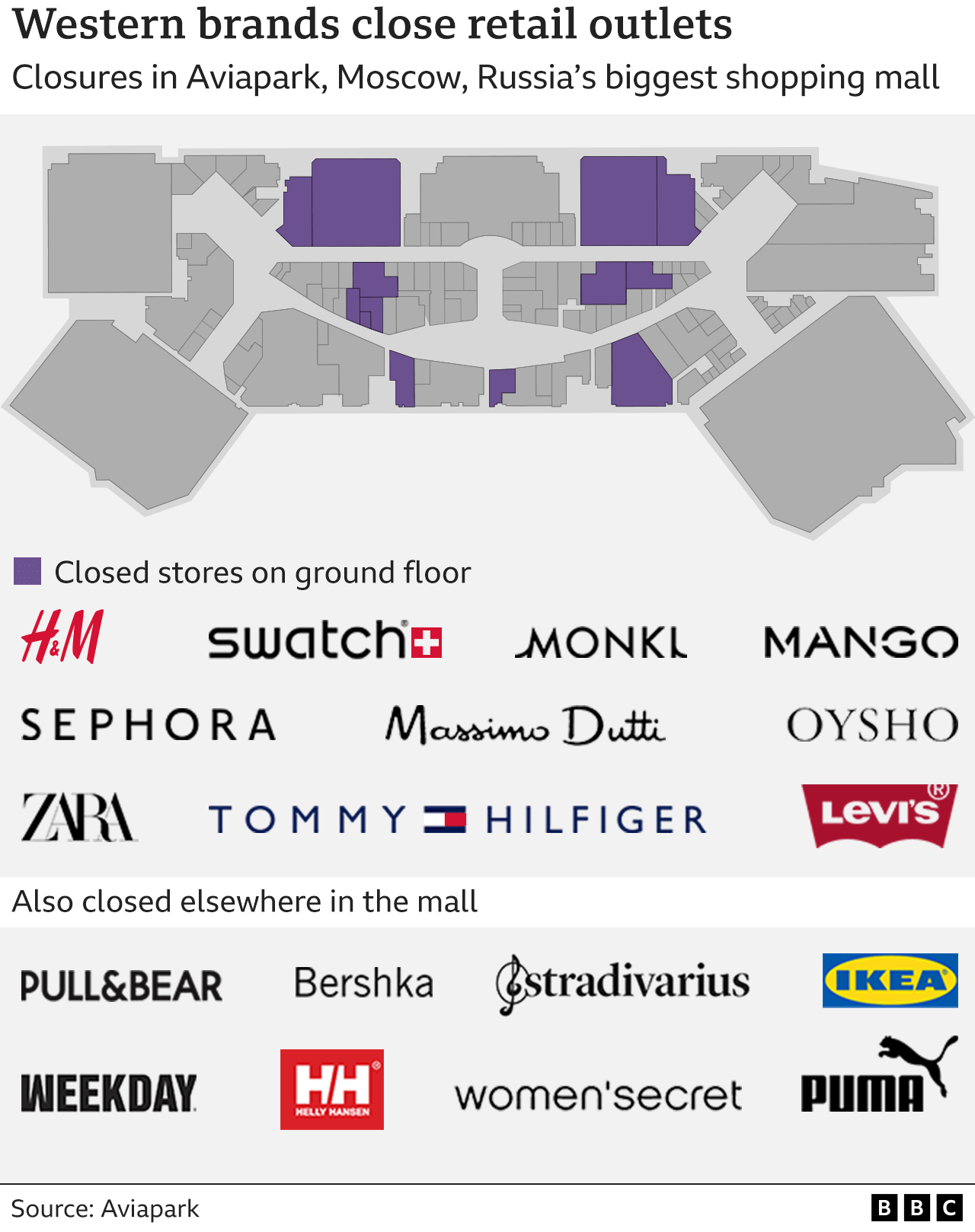 Even Levi's, the jeans brand that became a symbol of post-Soviet business in Russia, has closed its shops. The all-American jeans firm said about 4% of its total net sales came from Eastern Europe and Russia last year, but "any business considerations are clearly secondary to the human suffering experienced by so many".
Japan's Sony and Nintendo suspended deliveries of gaming consoles, and Sony suspended the launch of racing game "Gran Turismo 7".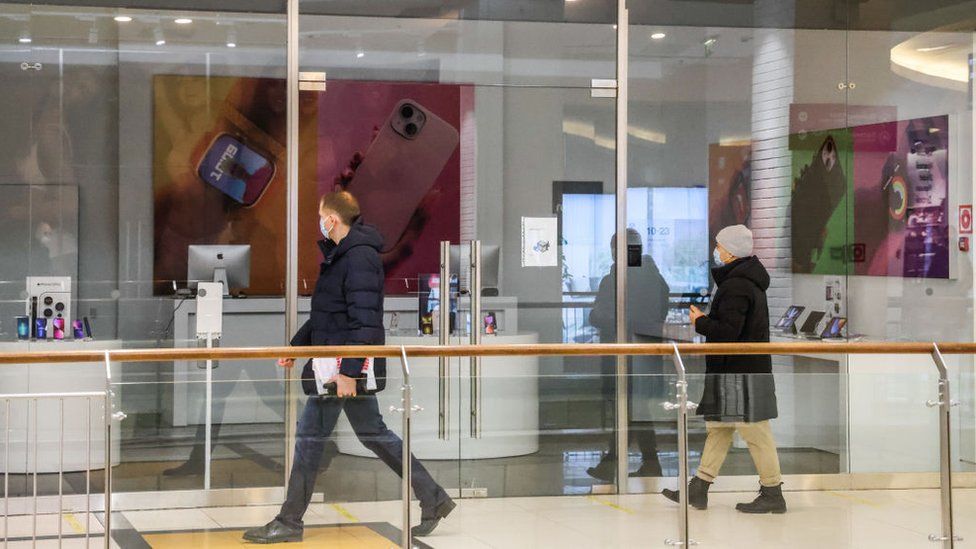 For a firm like Apple selling imported items, that's a relatively straightforward decision to take, suggests Macro-advisory's Chris Weafer.
"Companies do not want to be associated with the Russian regime and what's happening in Ukraine," he says. Their Russian business may be profitable, but "the rest of the world is more important" when it comes to reputational risk.
Some tech companies, flooded by misinformation, are also restricting Kremlin-linked media outlets posting on their platforms. Facebook was blocked in Russia after it said it had refused to stop fact-checking and labelling content from state-owned news organisations.
Meanwhile, TikTok has blocked all non-Russian content in Russia and suspended live streaming, although it is allowing historical content uploaded by domestic accounts to stay online, including videos by state-backed media services.
Large consultancy and law firms were some of the first to set up a presence in Russia after the collapse of the Soviet Union but they mostly operate out of the spotlight.
All of the Big Four accounting groups – Deloitte, KPMG, EY and PricewaterhouseCoopers (PwC) – have said they will no longer have a member firm in Russia because of the invasion. Top-tier law firm Freshfields says it will no longer work with any clients linked to the Russian state either.
Others say they are reviewing their client base and Russian links.
A senior executive for consultancy firm McKinsey, for example, wrote online that the company would "no longer serve" any government or state-owned entities in Russia. According to McKinsey's website, it serves 21 of the 30 biggest Russian companies.
BP owns a large stake in Russian energy giant Rosneft, but within days of the war starting it had announced the operation would be hived off.
That was closely followed by pledges from Shell, ExxonMobil and Equinor to cut their Russian investments following pressure from shareholders, as well as from governments and the public.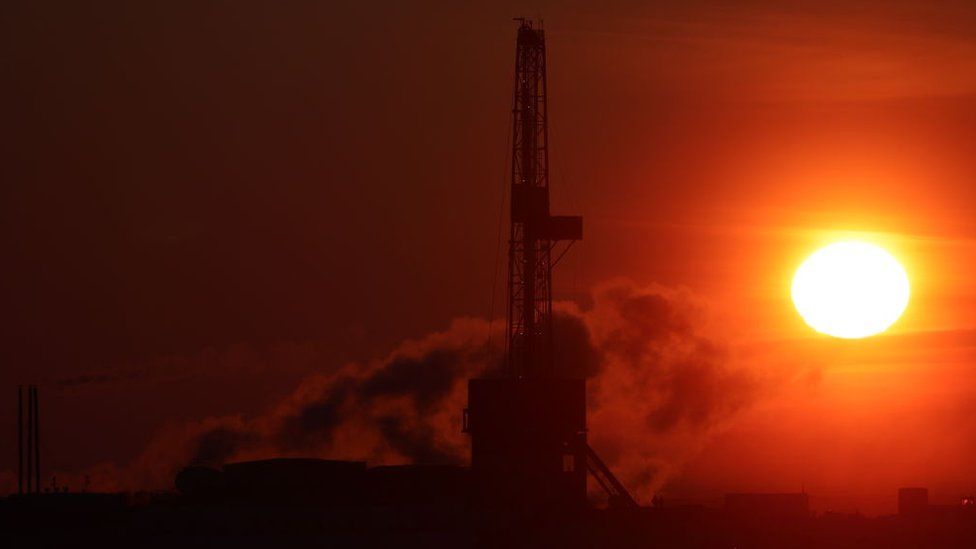 Firms want to be seen to be doing the "right thing", says Russ Mould, investment director at AJ Bell.
Meanwhile, Total Energies, another big player in Russia, has said it won't fund new projects in the country, but unlike its peers does not plan to sell existing investments.
It is still far from clear what will happen to those investments – whether they can eventually be sold, recouping some of their value, or if they will simply be written off at great cost.
Israel's fragile government lost its parliamentary majority on Thursday after an Arab-Israeli lawmaker resigned from the ruling coalition, accusing its leaders of fueling tensions between Israelis and Palestinians and condemning the violent intervention of police at...
Address
P.O. Box: 311001 Independance, Ohio, 44131
Call Us
+1 (216) 269 3272
Email Us
Publish@profilenewsohio.com