Russian President Vladimir Putin has ordered his troops to seal off Ukrainian defenders inside the besieged port city of Mariupol.
Mr Putin told forces to abandon plans to storm the sprawling Azovstal steel works there, where Ukraine is still resisting the invaders.
The Azovstal Iron and Steel Works – a massive, four sq-mile (10 sq km) plant in the south-east of the city – has become the last centre of Ukrainian resistance in Mariupol. Civilians as well as fighters are inside the plant.
Russian forces have been trying for weeks to dislodge them.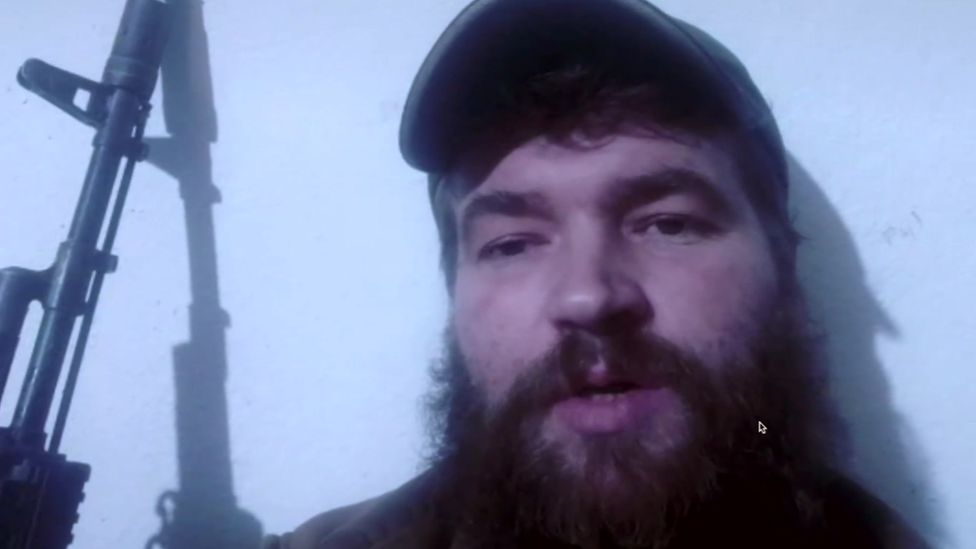 While Russia talks of isolating the Ukrainian defenders in Azovstal, they remain in contact with the outside world, describing conditions inside the huge steelworks.
Captain Svyatoslav Palamar, deputy commander of the Azov Battalion in the complex, told the BBC military and civilians were hiding in several basements in the complex, some of which he and his comrades were unable to reach.
"We know that there are small children there as young as three-months old," he said.
In recent days, Russian forces had used artillery and heavy bunker-busting bombs to try to destroy them, but all the attacks had failed, Capt Palamar said.
He added that more than 500 heavily wounded fighters needed medical help, and bodies of the dead remained unburied.
Read more from Capt Palamar's interview here.
'Mass burial site' identified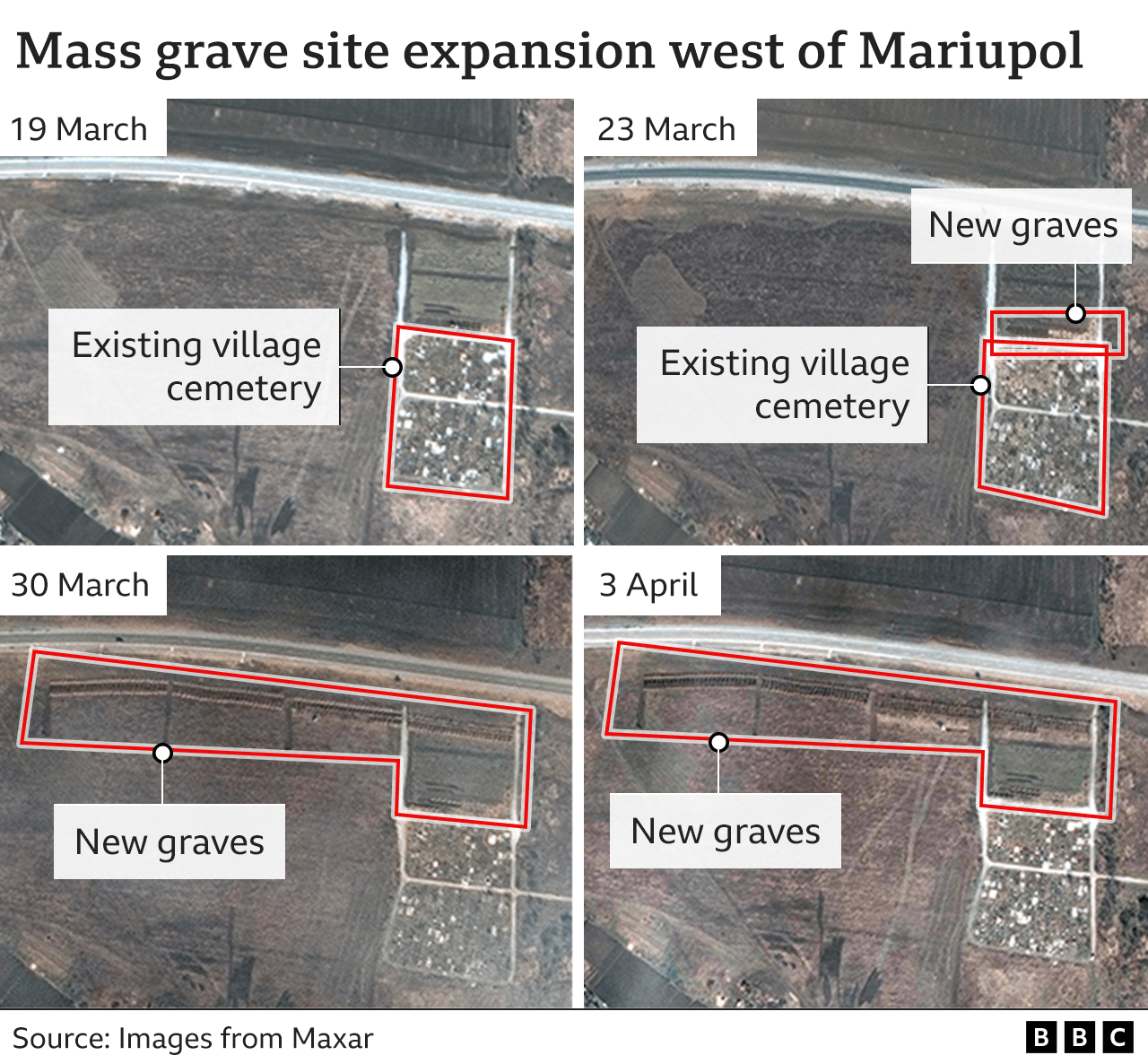 The situation on the ground in Mariupol remains extremely difficult, with no further evacuations of civilians on Thursday.
Meanwhile a grim discovery has been made in a village some 20km (12 miles) outside the city.
US satellite firm Maxar says it has identified a mass burial site containing about 200 graves in Manhush.
Local Ukrainian officials accuse the Russians of burying Mariupol civilians killed by Russian troops there, but Moscow has not yet responded to the allegations.
The city's mayor Vadym Boichenko says tens of thousands of civilians may have been killed in Mariupol.
Captured British men 'looked after'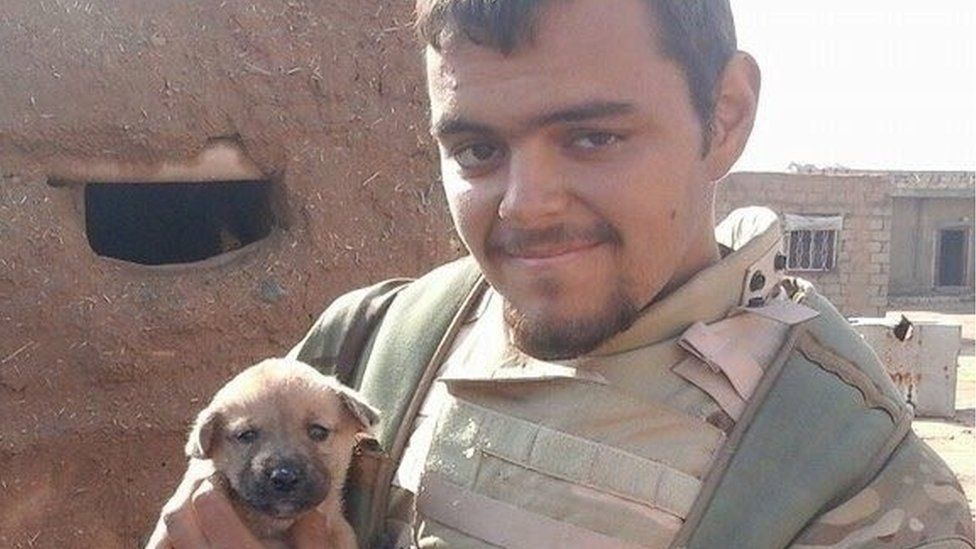 Days ago we reported that two British men had been captured by Russian forces in Mariupol.
Both Aiden Aslin, 28, and Shaun Pinner, 48, have lived in Ukraine since 2018, and they had both been serving as marines in Ukraine's military since before Russia launched its invasion.
"They are fed, watered, and given the necessary assistance. Just like other foreigners who have surrendered or been detained," said spokeswoman Maria Zakharova.
Both have been shown on Russian TV, apparently with facial bruising, calling for a prisoner exchange. Their families have called for the Geneva Convention to be respected.
What weapons has the US sent Ukraine?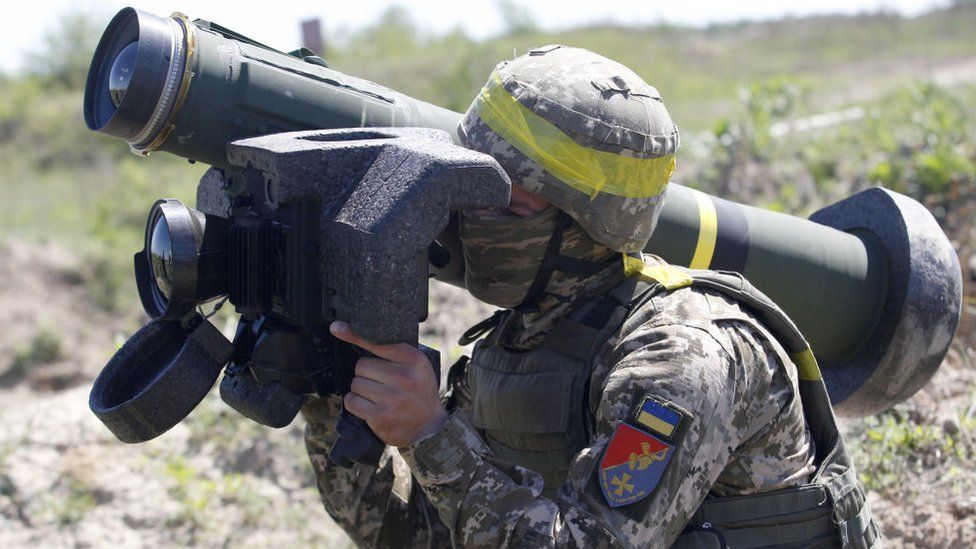 Images have been proliferating on social media of wreckage of Russian armour, apparently destroyed by Ukrainian forces.
One such image comes with a triumphant caption, saying a tank was destroyed by a Javelin missile.
The Javelin, a shoulder-held anti-tank weapon that shoots heat-seeking rockets hurtling towards targets up to 4km (2.5 miles) away, is among items sent to Ukraine through a series of military assistance packages from the US.
The latest $800m (£612.5m) package, announced by President Joe Biden on Thursday, also includes heavy artillery, howitzers and tactical drones to be used on the flat plains in eastern Ukraine.
Israel's interior ministry says it has deported a Palestinian-French human rights lawyer after accusing him of security threats. Salah Hamouri, 37, was escorted onto a flight to France by police early on Sunday morning, the ministry said. A lifelong resident of...
Address
P.O. Box: 311001 Independance, Ohio, 44131
Call Us
+1 (216) 269 3272
Email Us
Publish@profilenewsohio.com