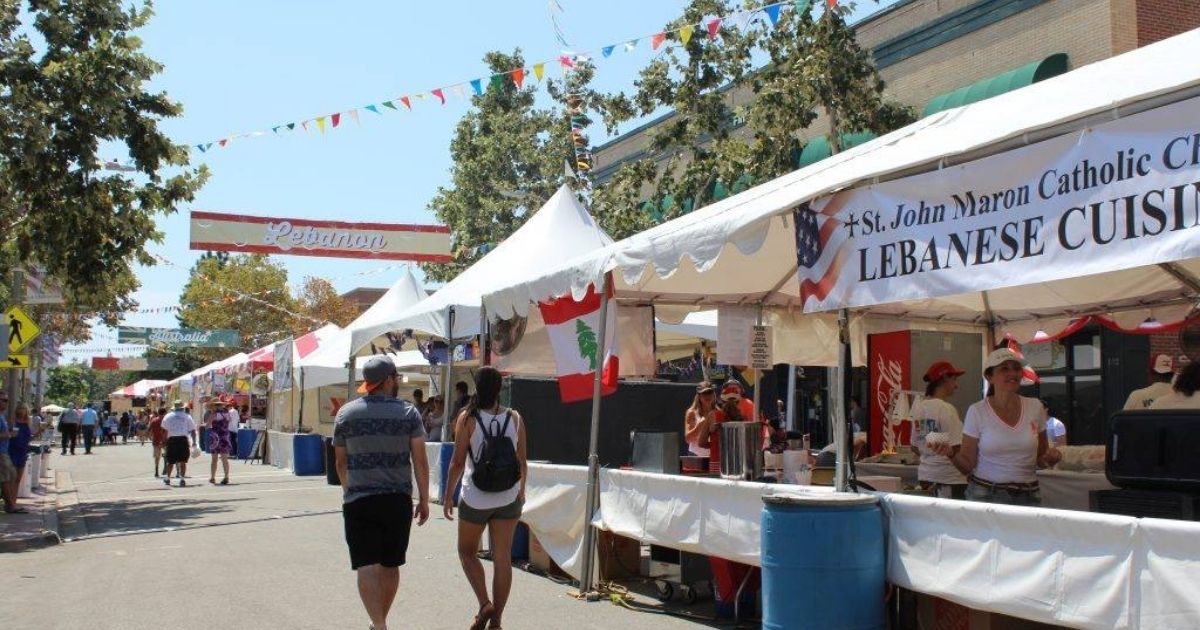 The St. John Maron Church OC Lebanese Festival is organizing a three-day Lebanese festival to celebrate Lebanon's culture in Orange County, California.
Founded in 2011, the festival will have its 2022 Edition from June 10th to 12th, at 300 S Flower St, Orange Country, CA 92868.
St. John Maron Church OC Lebanese Festival is family and friends friendly that welcomes different cultures to celebrate their Lebanese roots and the country's rich culture.
The festival will also host delicious Lebanese food, including shawarma, falafel, and Lebanese sweets; live entertainment and DJ; a free kid's play zone; Hookas (strickly 21+);, and beer and wine.
Entry Fee varies from $5 for one day and $12 for 3 Days, Kids 5 and under are Free.
The festival is also hosting Raffles and Prizes, for limited tables for $500/Day; $750/2 Days; and $1000/3 Days.
The Saint John Maron Church Orange County Lebanese Festival was inaugurated in 2011, to share Lebanese heritage in Orange Country, where it turned out to be successful.
Here is the schedule (the schedule subject to change – All times approximate):
FRIDAY, JUNE 10
5:00 PM Opening Ceremony – Monsignor Bakh
5:15 PM DJ
5:30PM – 7:30PM Charbel Bassel Eid – Live
7:30 PM – 10:30 PM Michel Achkar – Live
SATURDAY, JUNE 11
11:00AM Opening Prayer – Monsignor Bakh
11:15PM – 12:45PM Raffle & DJ
2:00PM – 2:30PM Dabke
2:30PM – 3:30PM Ibrahim Duqom – Live
3:30PM – 4:30PM Elie Kallas – Live
4:30PM – 6:00PM Fidel Fayad – Live
6:00PM – 6:30PM Christine Saadé – Live
6:30PM – 6:45PM Dabke
6:45PM – 7:45PM Charbel Bassil – Live
7:45PM – 10:00PM Fidel Fayad – Live
SUNDAY, JUNE 12
11:00AM – 11:15AM Opening Prayer & National Anthem
11:15AM – 12:45PM Raffle, DJ
12:45PM – 1:00PM Dabke
1:00PM – 3PM Sam Rizk – Live
3:00PM – 4:00PM Elie Kallas – Live
4:00PM – 5:00PM Hanoun Danhash – Live
5:00PM – 7:30PM Danny Achkhar – Live
7:30PM – 8:00PM Raffle
8:00PM – 10:00PM Danny Achkhar – Live
10:00PM DJ
Israel's interior ministry says it has deported a Palestinian-French human rights lawyer after accusing him of security threats. Salah Hamouri, 37, was escorted onto a flight to France by police early on Sunday morning, the ministry said. A lifelong resident of...
Address
P.O. Box: 311001 Independance, Ohio, 44131
Call Us
+1 (216) 269 3272
Email Us
Publish@profilenewsohio.com