One week into Russia's invasion of Ukraine, its troops have made significant advances into the country but have so far failed to take the capital Kyiv and other major cities.
Here are the latest developments on day seven of the invasion:
Russian paratroopers have landed in

 

Kharkiv, Ukraine's second-largest city
There are fears of mass casualties in port city

 

Mariupol

 

after heavy shelling
Russia's defence ministry claims to have captured southern city of

 

Kherson
People in

 

Kyiv

 

told to leave by Russia before planned air strikes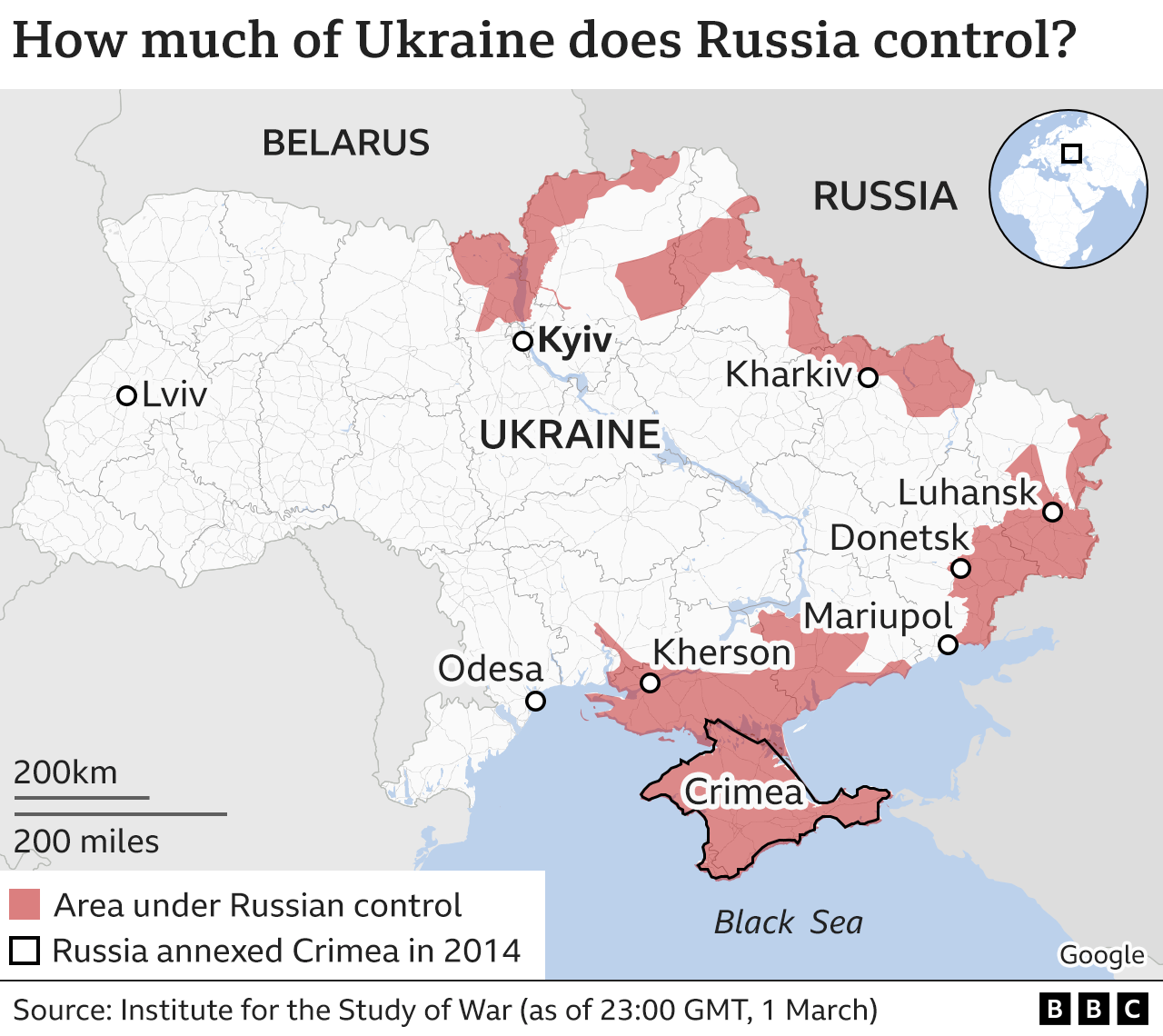 Russia launched its attack in the early hours of last Thursday from three main directions: north, south and east.
Since then, troops have poured into Ukraine and targets across the country have been struck by air strikes and artillery attacks.
Russian troops have been advancing on Kyiv from the north, although progress has slowed in the past 24 hours.
A convoy of Russian military vehicles that stretches across 40 miles has been hampered by broken down vehicles, according to analysts.
But the capital city has faced multiple attacks from the air.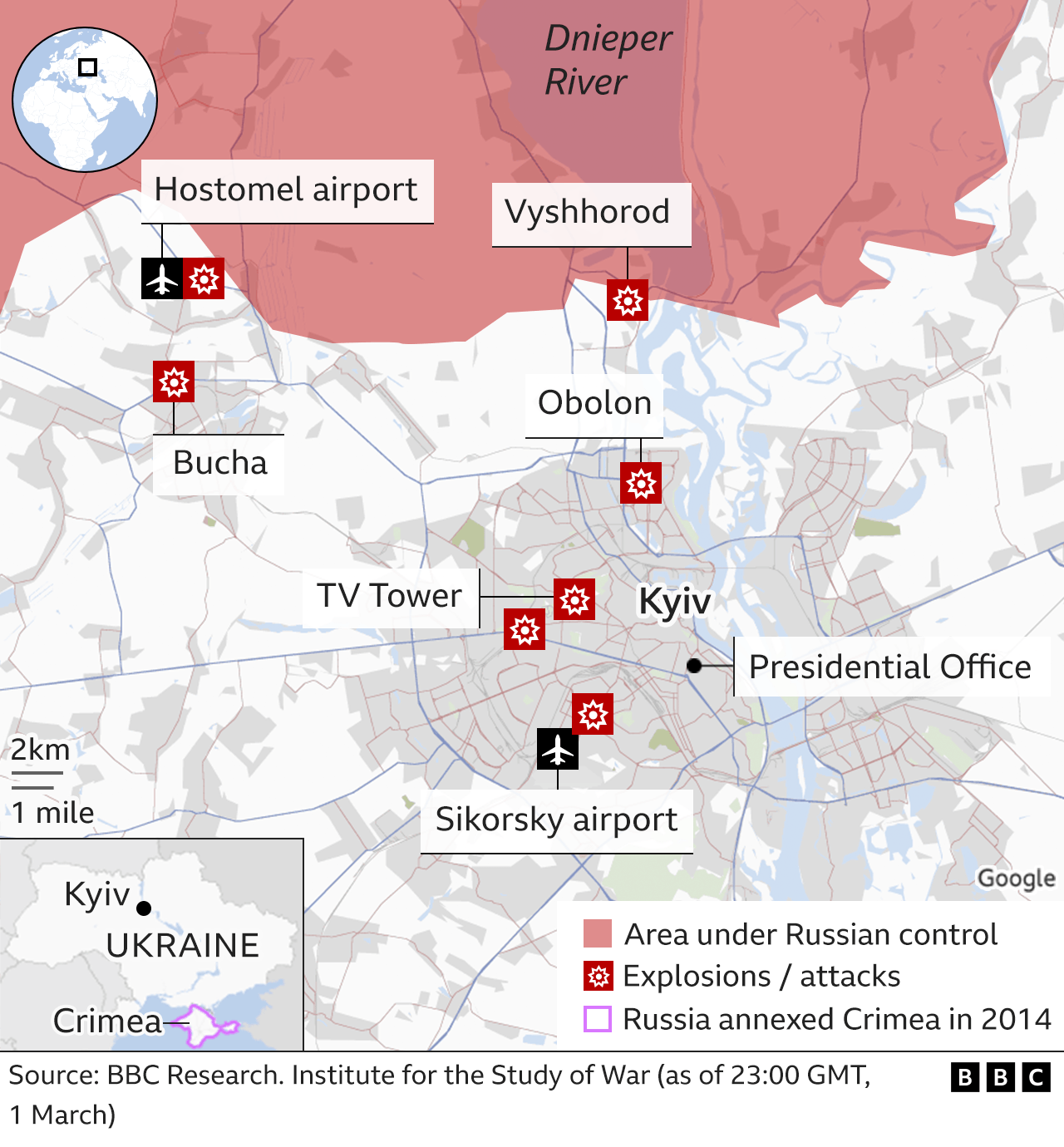 Hostomel airport has been the scene of fierce fighting and has changed hands multiple times in the past few days, according to the Institute for the Study of War (ISW).
Russian forces arrived near Obolon on the outskirts of Kyiv on Friday and clashes in north-western Kyiv were reported at the weekend.
But so far Russian tanks and armoured vehicles have not been seen in the capital.

More coverage of Ukraine crisis

Russian troops heading for Kyiv crossed the border into Ukraine at the three-way junction between Ukraine, Russia and Belarus, at Senkivka.
The UK Ministry of Defence (MoD) said on Tuesday that the bulk of Russia's ground forces still remain more than 30km (19 miles) from Kyiv.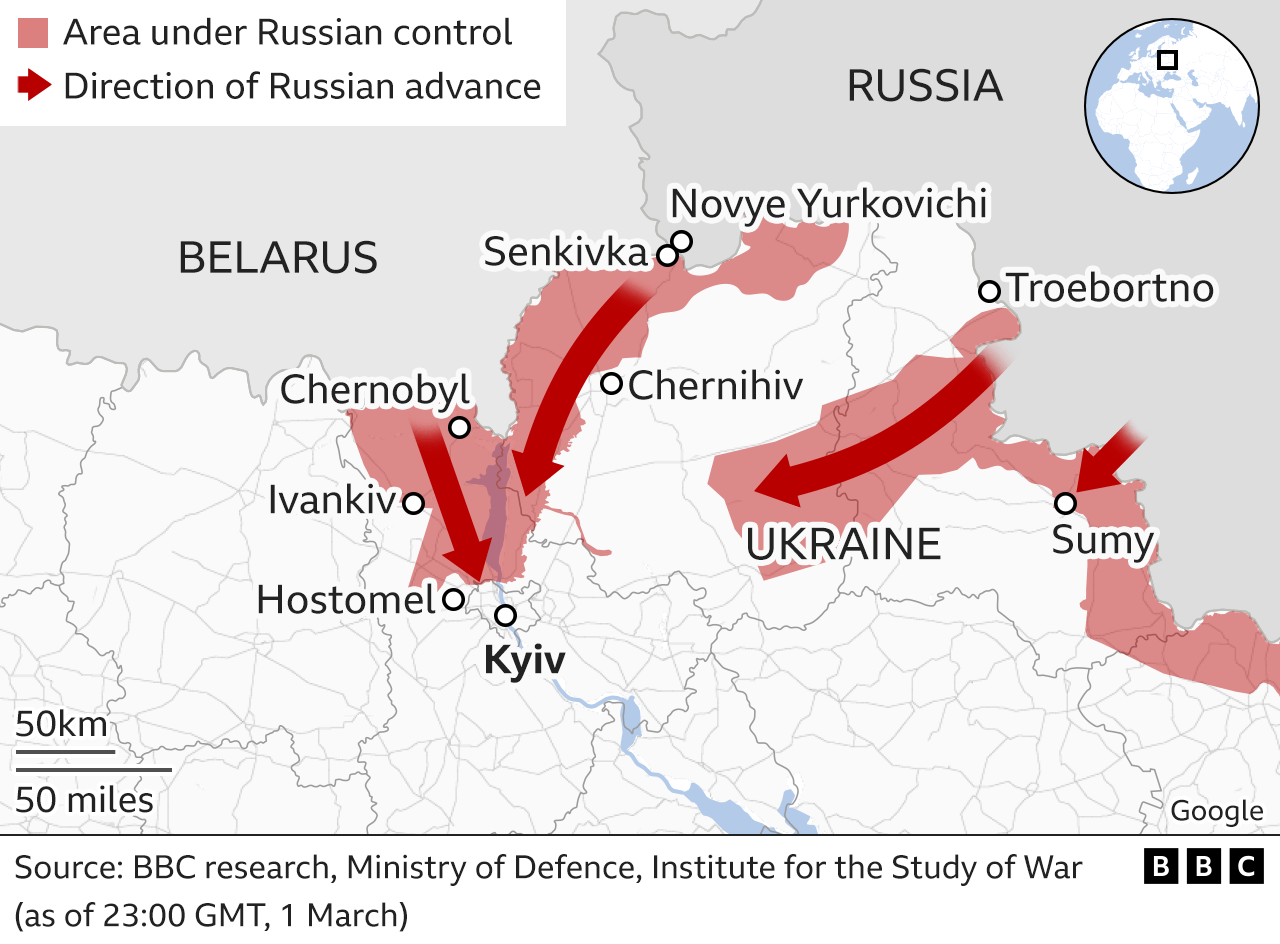 Armoured columns, including tanks and multiple launch rocket systems, have moved towards Chernihiv, where they have faced strong Ukrainian opposition. The city faced heavy shelling from Russian troops but remains in Ukrainian hands.
A second, more rapid advance has come down the west side of the Dnieper river via Chernobyl, taking control of a large area to the north and west of Kyiv.
The Ukraine military says Russian paratroopers have now landed in Kharkiv, following heavy aerial bombardment of the city in recent days.
On Wednesday, the city's mayor said the heavy shelling had killed at least 21 people and wounded more than 100 others.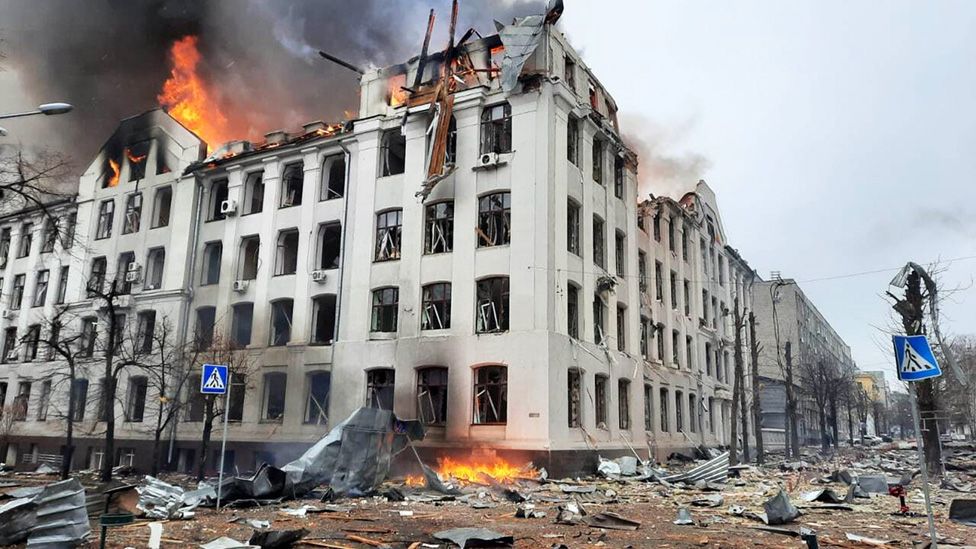 Russian forces first breached Kharkiv on Sunday but the attack was repelled.
Images emerged showing Ukrainian troops firing rocket propelled grenades on street corners and Russian troops, on foot, moving behind armoured vehicles.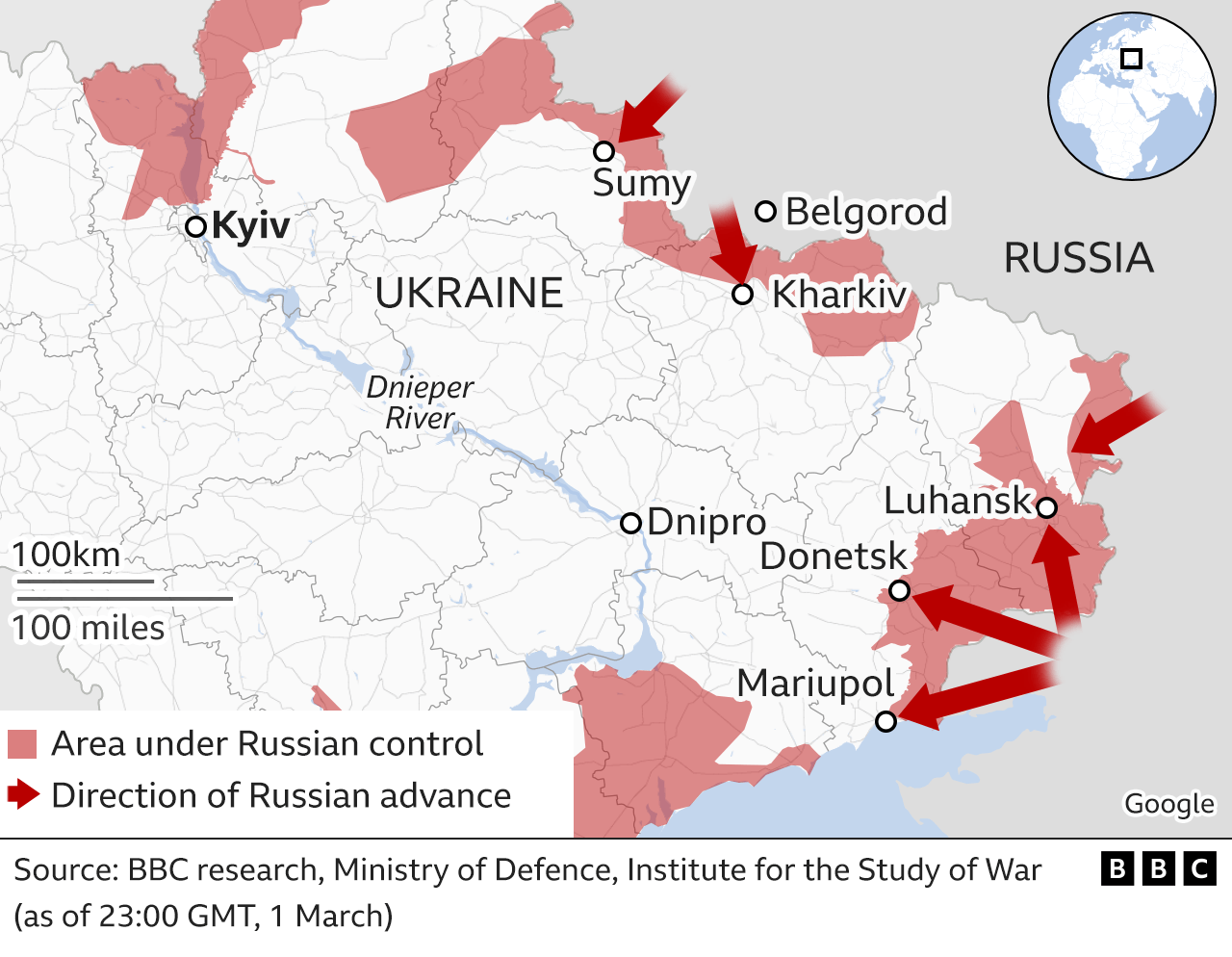 Reports say shelling has continued around Donetsk, which has come under attack from troops crossing from Belgorod in western Russia.
There are thought to be about 15,000 Russian-backed separatists in Donetsk and Luhansk, who may help a Russian advance. Ukraine believes the figure is higher.
Fighting has also continued around Sumy.
Russian forces have made a rapid advance from Crimea and pushed west towards Kherson and east towards Mariupol.
Its troops were said to have entered Kherson on Tuesday night, with Russia's defence ministry claiming it had captured the southern city on Wednesday morning.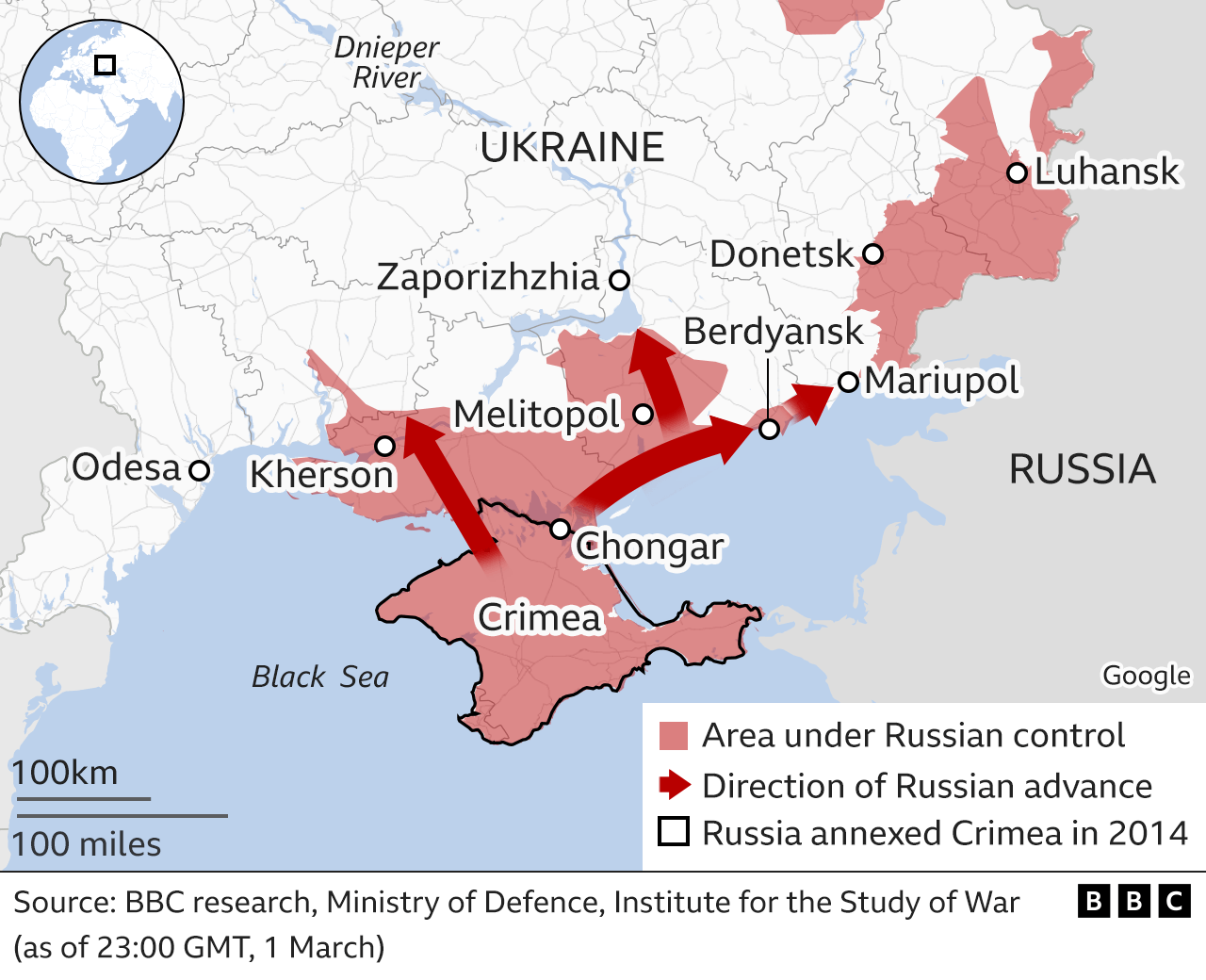 In Mariupol, Ukraine's main trading port, the mayor said there had been heavy shelling as Russian troops tried to encircle the city.
An advance from Mariupol to the east would create a land bridge between Crimea and territory held by pro-Russian separatists in Donetsk and Luhansk.
In the days leading up to the invasion, Russia positioned landing ships capable of deploying main battle tanks, armoured vehicles and personnel, off the Ukrainian coast in a major build-up in the Black Sea and the Sea of Azov.
Thousands flee across borders
Since the invasion began, hundreds of thousands of civilians have fled, according to the United Nations.
The European Union estimates that up to four million people may try to leave the country because of the Russian invasion.
Refugees are crossing the borders to neighbouring countries to the west, such as Poland, Romania, Slovakia, Hungary and Moldova.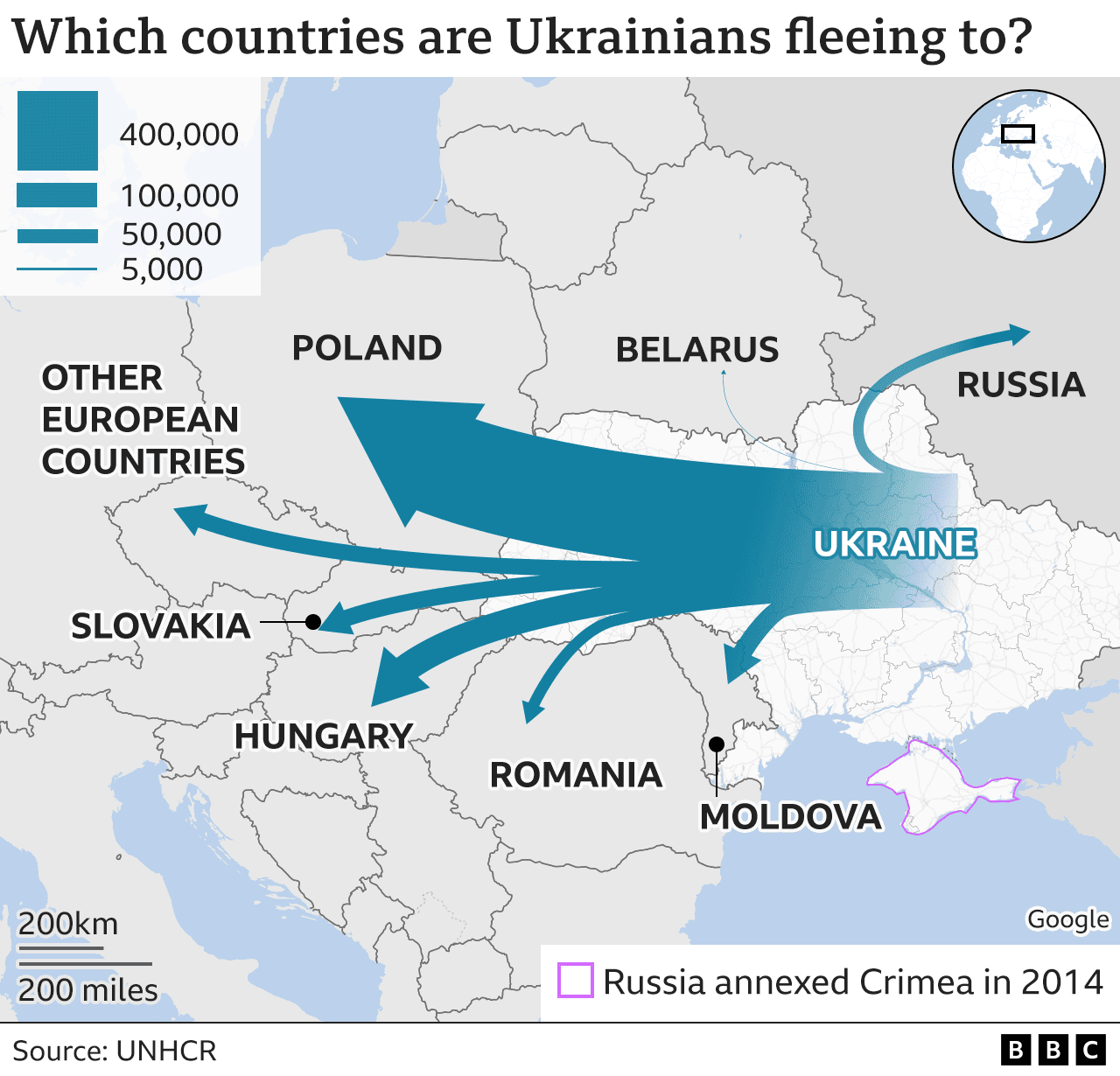 Israel's interior ministry says it has deported a Palestinian-French human rights lawyer after accusing him of security threats. Salah Hamouri, 37, was escorted onto a flight to France by police early on Sunday morning, the ministry said. A lifelong resident of...
Address
P.O. Box: 311001 Independance, Ohio, 44131
Call Us
+1 (216) 269 3272
Email Us
Publish@profilenewsohio.com