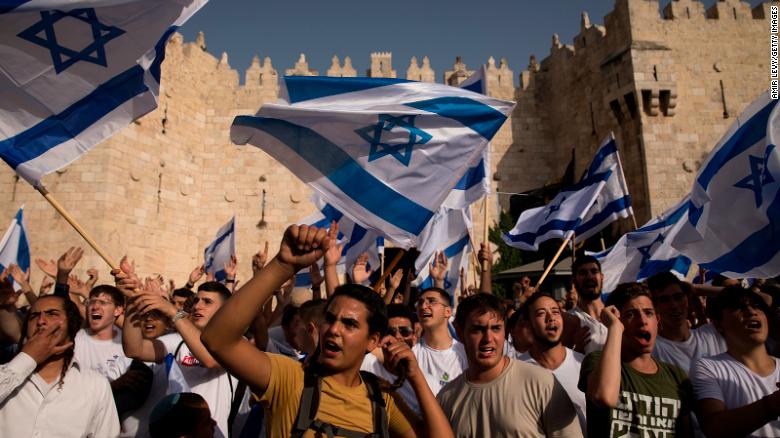 A march on Sunday to commemorate the establishment of Israeli control over East Jerusalem in 1967 was marred by incidents of violence and hate that left some Israelis disturbed.
Israeli police estimated that more than 70,000 people took to the streets of the
flashpoint city
for a Jerusalem Day flag march, which has become a
 

magnet for far-right
Jewish extremists. CNN journalists on the ground witnessed some of those marching hurled insults, punches and objects at Palestinians, journalists and police.
At one point, groups were chanting "death to Arabs," and "Arabs are sons of b*tches." One marcher was filmed chanting "Shireen is dead, Palestine is dead," in reference to
Shireen Abu Akleh
, the Al Jazeera reporter who was killed while covering an Israeli military raid in the West Bank earlier this month.
It was a chaotic Sunday in the narrow streets of the Old City as clashes broke out between the marchers and Palestinians as well as Israeli police and Palestinians. CNN's team on the ground witnessed several violent encounters where marchers attacked Palestinians and journalists — including CNN staff — with pepper spray, as well as sticks and bottles thrown at reporters gathered to cover the march. Police were seen tackling an older Palestinian man who had placed himself between reporters and the marchers to wave a Palestinian flag.
Several Israeli politicians condemned the actions of the participants, while commentators noted that the march has become overrun by right-wing extremists and Jewish settlers — and is largely avoided by secular Israelis and ultra-Orthodox Jews.
Israeli Prime Minister
Naftali Bennett
condemned in a statement what he said was "a minority that has come to set the area ablaze," while Foreign Minister
Yair Lapid said
the extremist groups La Familia and Lehava, whose flags were raised during the procession, "do not deserve to carry the Israeli flag."
Security Minister
Omer Bar-Lev
defended approving the route of the march through the Muslim quarter of the Old City, writing on Twitter: "If we succumb to the threats of terrorism not to wave Israeli flags in our capital, we will not know one day of silence, and we will find ourselves folding in the future as well." But he also condemned what he said was "ugly racist behavior that cannot be tolerated."
Israel considers both eastern and western sectors of Jerusalem as its "undivided capital." Most of the international community considers the eastern sector as being occupied. East Jerusalem has a sizable population of Palestinians, who want that part of the city to be the capital of a future state.
Issawi Frej, Minister of Regional Cooperation and the second ever Muslim minister in an Israeli government,
said on Facebook

 
that he boycotted government meetings on Sunday "in light of what is happening in Jerusalem and in the entirety of the decision-making process regarding today, where I tried to change the course of the Flag March and work to calm the situation in vain."
Michal Rozin, a member of the Knesset, the Israeli parliament,
tweeted a video

 
of a young Jewish man waving an Israeli flag like a weapon toward a group of young Palestinians.
"If anyone has not yet understood why the flag parade has become a show of bullying and violence, this video from Nablus Gate might be able to sharpen it," she wrote, referring to one of the gates of the Old City. "My flag is not a weapon."
Yaakov Katz, editor-in-chief of the English newspaper Jerusalem Post,
wrote in a column
that "there is a sad conclusion we cannot ignore: Israel has a racism problem, and it rears its ugly head on Jerusalem Day."
Yedioth Ahronoth Columnist Nahum Barnea wrote that the day has been taken over by settlers and religious Zionists who turn it into a day that is "Not love for Jerusalem; but hatred for Arabs."
Israel's interior ministry says it has deported a Palestinian-French human rights lawyer after accusing him of security threats. Salah Hamouri, 37, was escorted onto a flight to France by police early on Sunday morning, the ministry said. A lifelong resident of...
Address
P.O. Box: 311001 Independance, Ohio, 44131
Call Us
+1 (216) 269 3272
Email Us
Publish@profilenewsohio.com