Ukrainians left the city of Lysychansk so Russians would not destroy it from a distance, a top official says.
Soldiers have now moved to new fortified positions, Serhiy Haidai, governor of the Luhansk region that includes the key city, told the BBC.
Losing the city and ceding control of Luhansk to Russia was painful, he said, but added: "This is just one battle we have lost, but not the war."
He pleaded for more weapons from the West to offset the Russian advantage.
President Volodymyr Zelensky has pledged that Ukrainian forces will return to retake Lysychansk "thanks to the increase in the supply of modern weapons".
Russia has now stepped up its bombardment of cities in the neighbouring Donetsk region, with Sloviansk and Kramatorsk in particular being targeted.
Together the regions of Donetsk and Luhansk form the industrial Donbas area.
Just before he launched the invasion of Ukraine on 24 February, President Vladimir Putin recognised all of Luhansk and Donetsk as independent states. Russian proxy forces began an insurgency there in 2014 – the year Russia also annexed the Crimean peninsula.
Just over a week ago Russian troops captured Severodonetsk – which Russian bombardment has reduced to ruins.
Speaking about the decision to leave Lysychansk, Mr Haidai said: "Unfortunately, our troops had to withdraw from Lysychansk because there was a threat the city could be encircled.
"Our military could have held the city for a long time, but Russia currently has a huge advantage in artillery and ammunition. They would have simply destroyed the city from a distance, so there was no point in staying.
"We needed to save our troops, so that when enough weapons arrive, we can conduct normal operations and counterattack."
Mr Haidai said troops had now moved to positions in neighbouring Donetsk – "the next goal of the Russians".
The governor said Ukraine needed long-range artillery.
"We have howitzers and multiple launch rocket systems, but it's still not enough. We need more. If you compare it to football, if we have one good player in the football team, we will not win the match. We need more."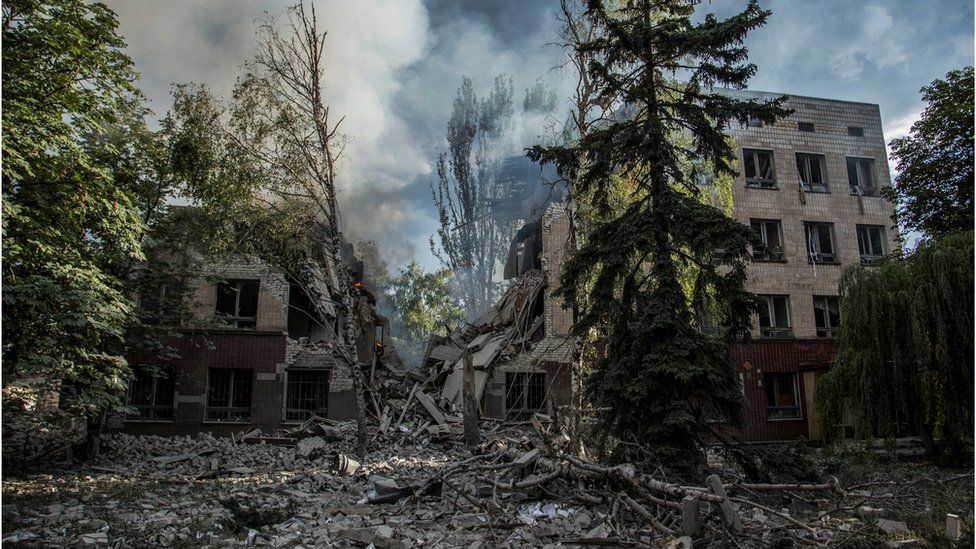 Israel's interior ministry says it has deported a Palestinian-French human rights lawyer after accusing him of security threats. Salah Hamouri, 37, was escorted onto a flight to France by police early on Sunday morning, the ministry said. A lifelong resident of...
Lebanon  is determined to uncover the circumstances that led to the killing of an Irish UN peacekeeper,  caretaker prime minister Najib Mikati said during a visit to the headquarters of the UN Interim Force in Lebanon (Unifil)  on Friday. Private Sean Rooney, 23, was...
Address
P.O. Box: 311001 Independance, Ohio, 44131
Call Us
+1 (216) 269 3272
Email Us
Publish@profilenewsohio.com