Russia is striking civilian targets in Ukraine, including hospitals, nurseries, and schools, the Ukrainian deputy prime minister has said.
Olha Stefanishyna told the BBC that, after "strong resistance" from the Ukrainian army, there was an "enormous operation" by Russia against civilians.
On Sunday alone, a family of four were killed when Russians fired shells at people fleeing the conflict in Irpin.
And in the port city of Mariupol, a mass evacuation had to be called off.
The city is now in its fifth day with no running water, no power, no sanitation, and food and water are fast running out.
However, the city council there said plans to get civilians to safety had been aborted for the second day running because Russian shelling had made it impossible. Russia has blamed Ukrainian forces.
The British government has accused Russia of targeting populated areas "in multiple locations", noting in an intelligence update that it had "previously used similar tactics in Chechnya in 1999 and Syria in 2016".
On Sunday, UN monitors said 364 civilian deaths had been confirmed in Ukraine since the invasion began on 24 February, but the real figure was likely to be "considerably higher".
The UNHCR said more than 1.5 million people had fled Ukraine since Russia invaded.
But Russia denies targeting civilians, saying it is carrying out a "special military operation" against Ukrainian "nationalists" and "neo-Nazis".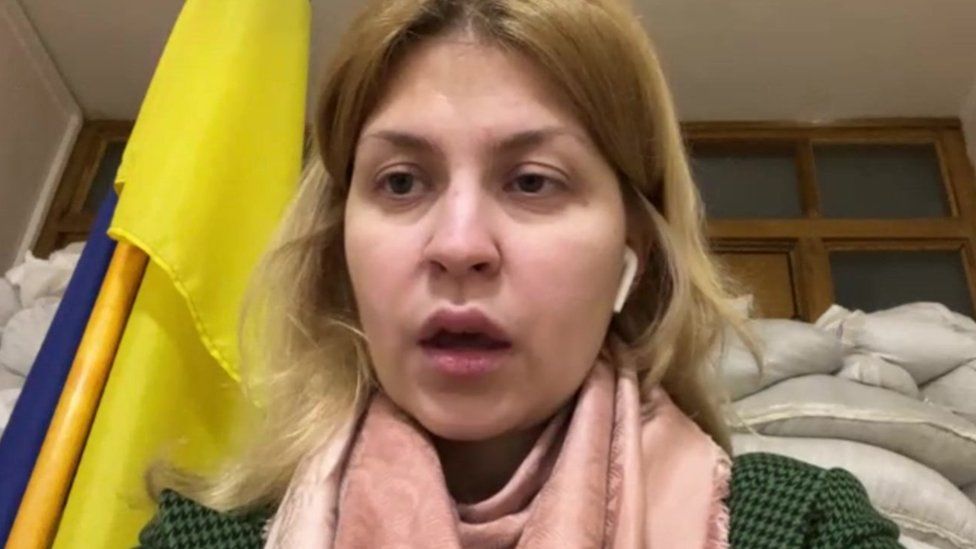 Ms Stefanishyna – who was speaking to BBC TV's Sunday Morning programme – accused Russia of "military tactics right in the cities of Ukraine", adding they were carrying out a "terroristic plan", with attacks coming from the air and also by land.
"Shelled hospitals, the shelled houses for kindergartens and schools, and the ordinary households," she said. "This is how the reality looks."
She said Ukraine was seeing "another wave of implementation of this terroristic plan of [the] Russian Federation".
Ms Stefanishyna claimed Russia was suffering "enormous losses" of soldiers and equipment, but this "does not deter Russia".
"It only encourages further aggression," she said.
The family's deaths in Irpin, north-west of Kyiv, happened when Russian mortar shells targeted a damaged bridge that people were using in an effort to escape the violence.
Attacking civilians and civilian infrastructure – such as schools and hospitals – is against the Geneva Conventions, which are treaties agreed by all countries that are supposed to regulate war.
As well as the WHO, other non-government organisations have also reported attacks on civilian targets.
Israel's interior ministry says it has deported a Palestinian-French human rights lawyer after accusing him of security threats. Salah Hamouri, 37, was escorted onto a flight to France by police early on Sunday morning, the ministry said. A lifelong resident of...
Address
P.O. Box: 311001 Independance, Ohio, 44131
Call Us
+1 (216) 269 3272
Email Us
Publish@profilenewsohio.com