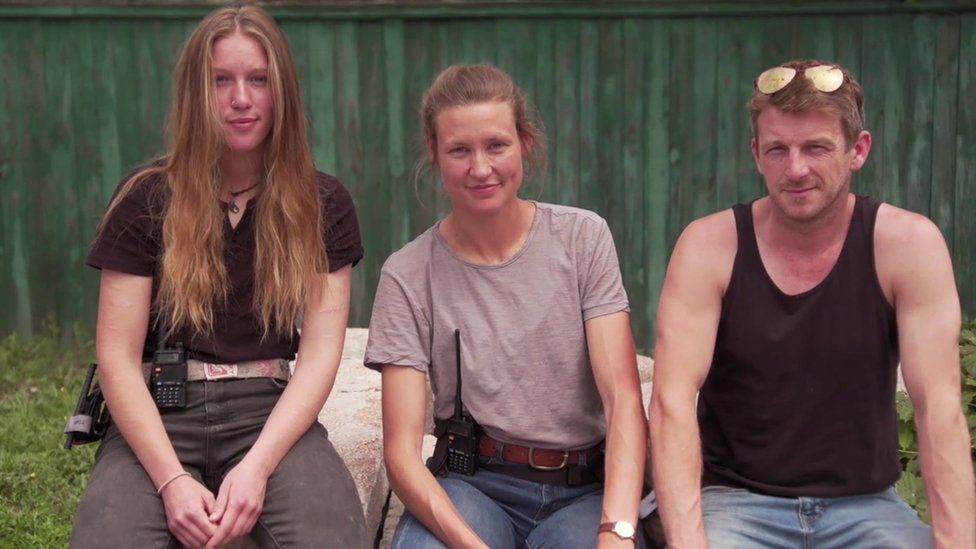 At first glance they are an unlikely line up for aid workers in a war zone – a dog trainer from Kent, a farmer from Cornwall, and a technology executive from Sussex.
But these three British volunteers were drawn – separately – to Ukraine. They teamed up here and have spent months in harm's way evacuating the elderly and the frail from areas near front lines. They fund themselves and prefer not to be named.
"I know my parents worry," says the dog trainer who, at 21, is the youngest. "I have had phone calls with my mum where she has been in tears, but they are just really proud of what I am doing. They know I will be out here for a while, and they don't know when I will be coming home."
As we speak, air raid sirens wail and explosions thud in the distance now and then.
She hopes one day to be a qualified paramedic. For now, she has done a course in trauma first aid, and is learning on the job. When we joined the volunteers for a day, she was quick to check the lower leg of an evacuee with a blackened, gangrenous wound. Medical care had already been arranged for him at a safe distance.
The team regularly travel to and from towns and cities in the path of Russian forces who are grinding forward across the Donbas region of eastern Ukraine. Shelling is a constant threat. One run was so risky they were ordered by the Ukrainian military to put their body armour on.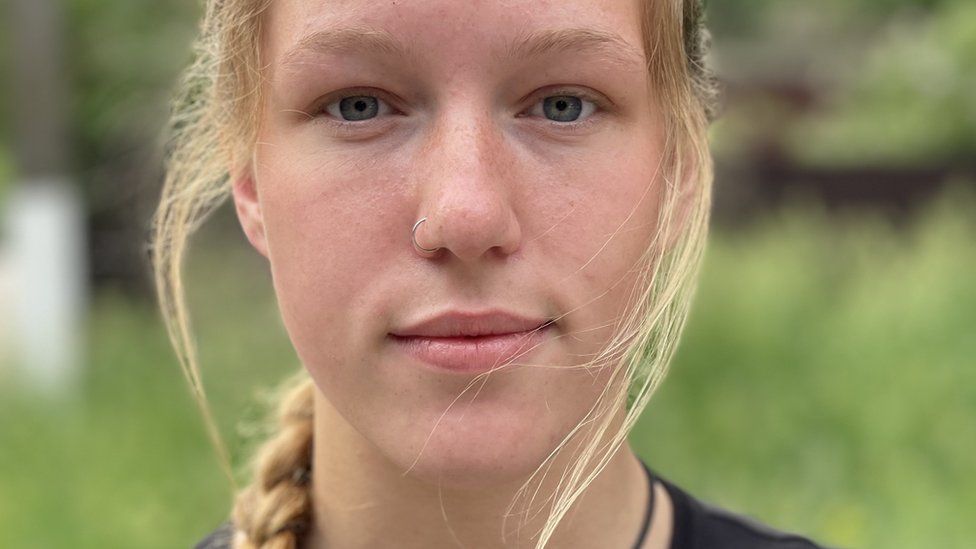 "There have been a few moments when you feel it's a bit close for comfort," she says. "We stick together. As much danger as we are in, we feel quite prepared and reliable as a team."
They concede that some may wonder what they are doing in this war-torn region, and how much help they can provide.
"I didn't expect that we would be needed or wanted," says the farmer, "but we are." Back in the UK he was tending to cattle and sheep before losing his job. After Russia invaded Ukraine, he filled a van with aid and drove it over from the UK. It now serves as their rough and ready ambulance.
"In an ideal world we would be redundant," he says, "but we are not. We are here doing what we can. We are not experts, but we've done a lot in the last few months. I don't feel like there's anything else I could be doing that's more important than this."
He was behind the wheel on the day of our visit, but the volunteers stress they share the load, and the highs and lows, buoying each other up with "British humour".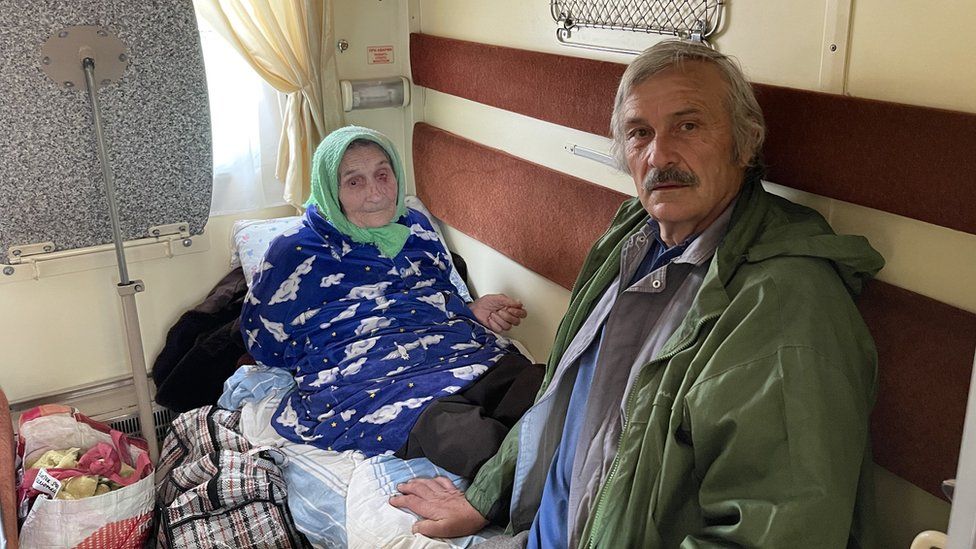 They have moved about 150 people in recent months – some to hospital in the city of Kramatorsk, others to a train station in the Pokrovsk. They collaborate with an established Ukrainian NGO, Vostok SOS, which gives them lists of evacuees to be collected each day, along with information about their medical condition.
As they grapple with day-to-day logistics and shifting front lines, the team has another concern – that international attention is fading.
"Aid is coming in slower," says the former farmer. "That leads me to believe that people are becoming kind of used to the war, and I think that's something that really should not be happening."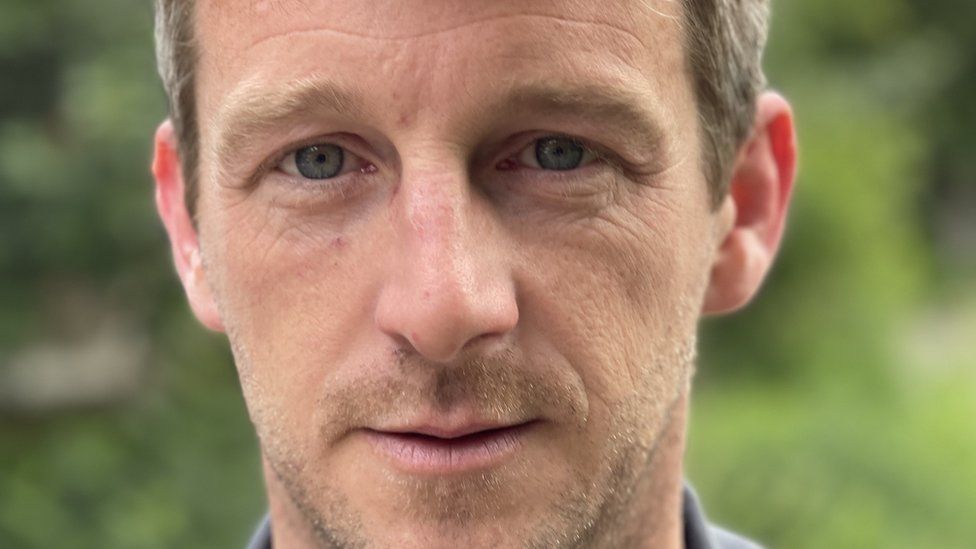 And he warns that there are still many in dire need of evacuation.
"Many people think those who needed to get out have gotten out," he says. "That isn't the case."
The third member of the team was already in motion when the war broke out. She had spent six months travelling in the Middle East, after leaving her role working in technology in a start-up.
"My life infrastructure had already been put on pause," she tells me. "So I've been free to come out here and stay out here indefinitely. We just want to get things done without any bureaucracy, any red tape. We work every day because this is what we care about. This is what matters because we are all Europeans. An attack on Ukraine by Russia is attack on all of us."
Her own family knows the trauma of war and dislocation. Her grandmother had to flee from Poland during World War Two.
And when the team collect a 96-year old called Anastacia, she tenderly holds her hand. Anastasia is painfully frail and has to be lifted with care. Her 70-year-old son Yevgeny tells us they spent days below ground when their village was shelled.
"Four or five days ago they started firing with mortars," he says. "Our garden was hit, just 10 metres from our house. When it was so loud that everything shook, my mother was very scared."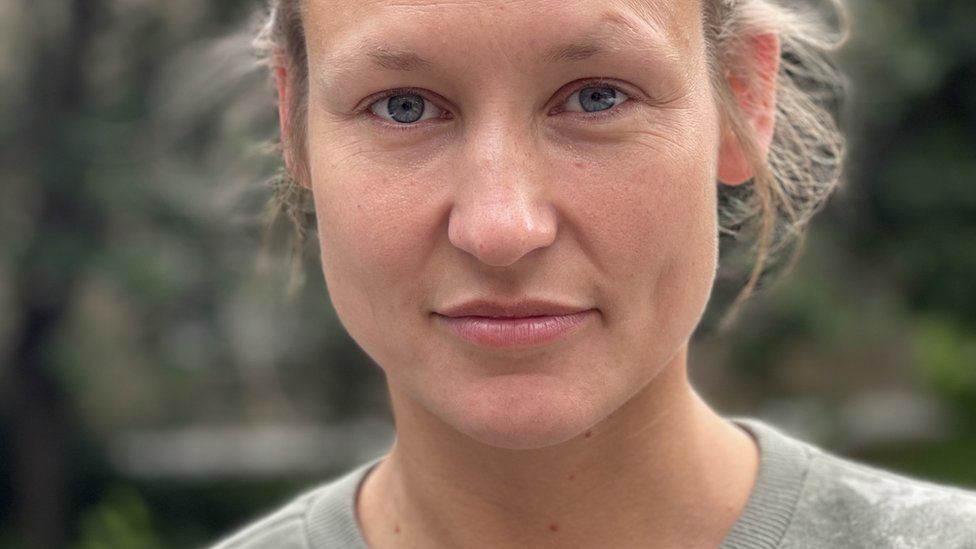 Anastasia is carefully carried on to a train, with Yevgeny by her side. Once again she has to flee, just as she did at 15, during World War Two.
The volunteer – who is now a world away from her old life in high tech – says the hardest days are when they cannot evacuate everyone. Some don't want to go – reluctant to leave home and hearth even when the war is closing in.
"You hope that you're doing the right thing taking them away from their land, and that they will get to come home. But you don't know. And you think about that for every single person you evacuate. Will they get to come back?"
Her voice catches with emotion.
"The land here is beautiful," she tells me. "And I was told that if you take a Ukrainian away from that, they will die. Whenever I evacuate a woman, I will pick her a flower from outside her building to take away. That's the only thing I can do."
Israel's interior ministry says it has deported a Palestinian-French human rights lawyer after accusing him of security threats. Salah Hamouri, 37, was escorted onto a flight to France by police early on Sunday morning, the ministry said. A lifelong resident of...
Address
P.O. Box: 311001 Independance, Ohio, 44131
Call Us
+1 (216) 269 3272
Email Us
Publish@profilenewsohio.com